The Oak Ridge Site Specific Advisory Board (ORSSAB) is a federally appointed citizens' panel that provides independent advice and recommendations to the U.S. Department of Energy's (DOE) Oak Ridge Office of Environmental Management (OREM).
DOE cleanup on the Oak Ridge Reservation affects multiple counties in East Tennessee and your input matters.
Join ORSSAB and help shape decisions that affect your environment, future development in the region, and more.
Mission
The board's mission is to provide informed advice and recommendations concerning site specific issues related to the DOE EM program. To provide unbiased evaluation and recommendations on DOE's cleanup efforts related to the Oak Ridge site, the Board seeks opportunities for input through collaborative dialogue with the communities surrounding the Oak Ridge Reservation, governmental regulators, and other stakeholders.
​The ORSSAB work plan guides activities during the year. Suggestions for work plan topics are provided by DOE OREM, EPA, TDEC, and ORSSAB members prior to the Board's annual meeting. Work plan topics are selected from the suggestions provided at the annual meeting. Topics are then incorporated into the ORSSAB Work Plan/Schedule. This work plan, which is a "living document," is updated as needed as the Board year progresses. 
The board's overall process is guided by its bylaws. Summaries of its activities are provided in annual reports.
The board meets the 2nd Wednesday of most months
In response to COVID-19, the DOE Office of Environmental Management is currently holding all SSAB meetings virtually. We will continue to monitor the situation and provide updates as circumstances change. 
To attend meetings or have your public comment included at the live event, please email orssab@orem.doe.gov one week in advance. Public comment will be accepted for five days after the meeting and included in the written record.
Membership
The board, formed in 1995, is composed of up to 22 members, chosen to reflect the diversity of gender, race, occupation, views, and interests of people living near the U.S. Department of Energy's Oak Ridge Reservation. Members are appointed by DOE and serve on a voluntary basis, without compensation, for a 2-year term. ORSSAB bylaws limit members to three consecutive 2-year terms.
The board conducts active member recruitment every fall, but accepts applications year round - fill out the ORSSAB membership application.
New members undergo training to prepare them to serve on the board. You can see some of those materials on our ORSSAB New Member Education webpage
The board also uses a committee structure to achieve its mission and conduct many of its tasks. Currently there are two committees: the Executive Committee and the Environmental Management and Stewardship Committee.
Members of the public are welcome to participate in board activities and meetings. Members of the public may fully participate in committee meetings, including voting.
Other participants
Non-voting liaisons include representatives from DOE's EM program, the U.S. Environmental Protection Agency Region 4, and the Tennessee Department of Environment and Conservation.
Non-voting student participants also serve on the board to represent the viewpoints and concerns of area youth.
How Can I Participate?
Membership: To apply please complete the membership application form. Applications are accepted at any time, but new members are usually added to the board once each year. Questions? Contact the ORSSAB support office at orssab@orem.doe.gov or call (865) 241-4583 or toll-free, 1-800-382-6938, option 4.
Technical expertise is not required for board membership, since we desire a broad spectrum of backgrounds and viewpoints. Members learn as they serve. New members are provided a welcome packet with resources to familiarize themselves with the board and the history of OREM cleanup. You can see much of that information on our ORSSAB New Member Education webpage, including relevant publications, rules governing the board, and video training. One of the first activities for new members is a tour of the DOE sites.
Applicants do not have to be solely from Oak Ridge. We particularly encourage residents from the counties most affected by DOE operations: Anderson, Blount, Campbell, Knox, Loudon, Meigs, Morgan, Roane, and Union. All applicants are welcome to participate in board activities and meetings as members of the public regardless of whether they are selected to serve as a member of the board.
Meetings: All meetings are held at the DOE Information Center, 1 Science.Gov Way in Oak Ridge unless otherwise stated.
Members of the public are welcome to participate in board activities and meetings. Members of the public may fully participate in committee meetings, including voting.
Meeting materials for current and past meetings are available online. Generally, the meeting agenda is posted before the meeting and meeting presentations, minutes or other materials are available shortly after the meeting has taken place.
Subscribe to Our Newsletters
To receive ORSSAB's weekly email newsletter or its quarterly publication, the Advocate, send an email to orssab@orem.doe.gov. or call the ORSSAB support office at 865-241-4583 or 241-4584.
Advocate Newsletters
VIEW ALL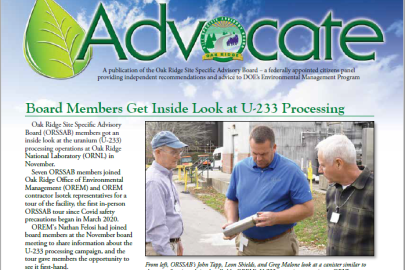 Advocate - Issue 89 - January 2023
January 18, 2023
January's cover story discusses ORSSAB's inside look at U-233 processing. Other news: EMDF Information session, EM leadership visit, and more.
Learn more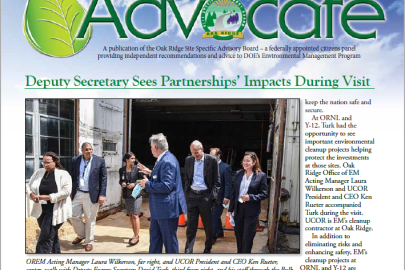 Advocate - Issue 88 - October 2022
October 14, 2022
October's cover story discusses DOE Deputy Secretary David Turk's recent Oak Ridge visit. Other news: Resource restoration agreement, chairs meeting recap, and more.
Learn more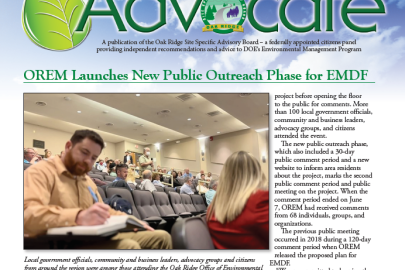 Advocate - Issue 87 - July 2022
July 15, 2022
July's cover story discusses OREM's public outreach phase for EMDF. Other news: OREM invests in outreach, chairs meeting recap, and more.
Learn more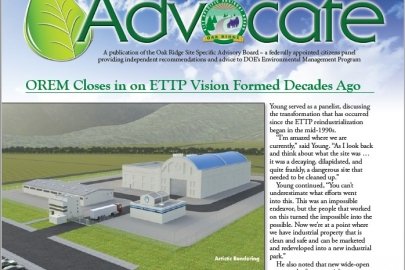 Advocate - Issue 86 - April 2022
April 7, 2022
April's cover story discusses EM's ETTP closure plan. Other news: K-25 viewing platform, UCOR contract, and more.
Learn more
Additional Information
Contact us
ORSSAB contact information including mailing address, phone numbers, and contact email addresses.
The DOE Information Center
The DOE Information Center provides citizens a consolidated facility to obtain records related to DOE's programs in Oak Ridge.
Environmental Stewardship
The Oak Ridge Office of EM works with multiple regulatory agencies that promote safety and environmental quality regionally and nationally.