Before you design a new home or remodel an existing one, consider investing in energy efficiency. You'll save energy and money, and your home will be more comfortable and durable. The planning process is also a good time to look into a renewable energy system that can provide electricity, water heating, or space heating and cooling. You may also want to explore your options for financing an energy-efficient home.
In an existing house, the first step is to conduct a home energy assessment (sometimes referred to as an energy audit) to find out how your home uses energy and determine the best ways to cut energy use and costs. To learn more about home energy assessments and find free tools and calculators, go to Your Home's Energy Use, the Residential Services Network, and the Building Performance Institute.
Whole-House Systems Approach
If you plan to design and build a new home or do an extensive remodel on an existing house, optimizing home energy efficiency requires a whole-house systems approach to ensure that you and your team of building professionals consider all the variables, details, and interactions that affect energy use in your home. In addition to how you use energy, the conditions of where your home is situated, and the local climate, these include:
Before making upgrades, you may also want to work with an energy assessor to use the Home Energy Score.  The Home Energy Score is a national rating system, developed by the U.S. Department of Energy, which provides a rating of your home's current efficiency, as well as a list of improvements and potential savings.  The Score reflects the energy efficiency of a home based on the home's structure and heating, cooling, and hot water systems. The Home Facts provide details about the current structure and systems. Recommendations show how to improve the energy efficiency of the home to achieve a higher score and save money.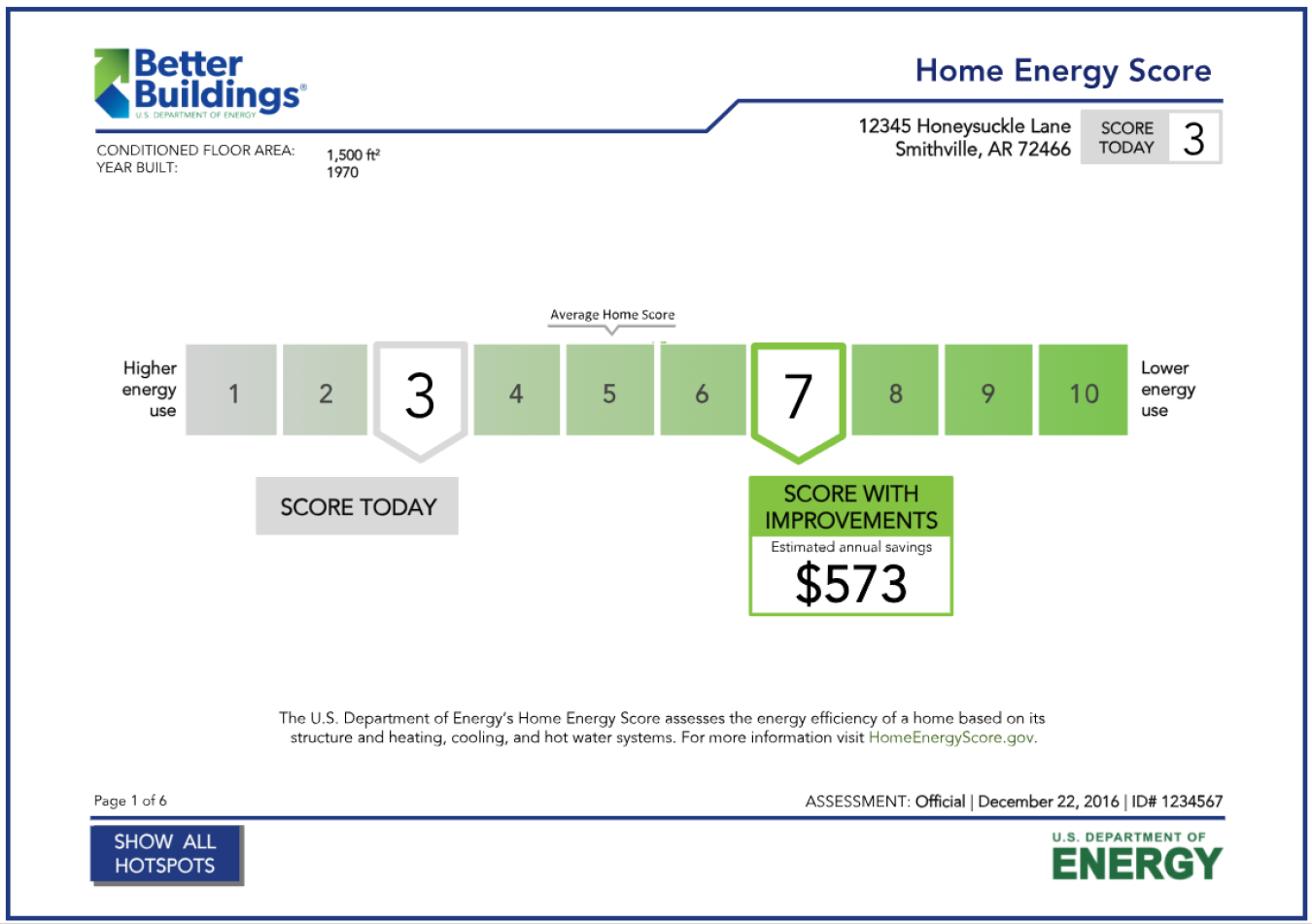 Ultra-Efficient Homes
Ultra-efficient homes combine state-of-the-art energy-efficient construction, appliances, and lighting with commercially available renewable energy systems, such as solar water heating and solar electricity. By taking advantage of local climate and site conditions, designers can often also incorporate passive solar heating and cooling and energy-efficient landscaping strategies. The intent is to reduce home energy use as cost-effectively as possible, and then meet the reduced load with on-site renewable energy systems.
Advanced House Framing
If you're building a new house or adding on to an existing one, consider using advanced house framing (also known as optimum value engineering), which reduces lumber use and waste and improves energy efficiency in a wood-framed house.
Cool Roofs
Cool roofs use highly reflective materials to reflect more light and absorb less heat from sunlight, which keeps homes cooler during hot weather.
Passive Solar Home Design
Passive solar home design takes advantage of climatic and site conditions to provide heating in the winter and cooling in the summer.
Earth-Sheltered, Straw Bale, Log, and Manufactured Homes
If you live in or are planning to buy an earth-sheltered, straw bale, log, or manufactured home, below is more information and links with suggestions to help improve your home's energy efficiency:
Efficient Earth-Sheltered Homes
Earth-sheltered homes can be built underground or bermed, and—when well designed and built—can be comfortable, durable, and energy-efficient.
Straw Bale Home Design
Straw bale buildings were fairly common in the United States between 1895 and 1940, but it wasn't until the mid- to late-1990s that building codes began to acknowledge them as a viable approach. Two current straw bale construction methods include non-load-bearing or post-and-beam, which uses a structural framework with straw bale in-fill, and load-bearing or "Nebraska style," which uses the bearing capacity of the stacked bales to support roof loads.
Proposed straw bale structures face considerable barriers, including:
Local building code approvals
Building loans
Mortgages
Homeowner's insurance
Community acceptance.
To learn about the building code standards for your state, contact your city or county building code officials. Your state energy office may be able to provide information on energy codes recommended or enforced in your state.
Energy Efficiency in Log Homes
Log homes use solid wood logs for wall structure and insulation, and require care in design, construction, and maintenance to achieve and maintain energy efficiency.
Efficient Manufactured Homes
Manufactured homes (formerly known as mobile homes) are built to the U.S. Department of Housing and Urban Development (HUD) Code, and are constructed on a permanent chassis so they can be moved. Owners can improve the energy efficiency of these homes by caulking and weather stripping, air sealing, and choosing energy-efficient lighting and appliances.
Subscribe to Energy Saver Updates
Subscribe to receive updates from Energy Saver, including new blogs, updated content, and seasonal energy saving tips for consumers and homeowners.