You are here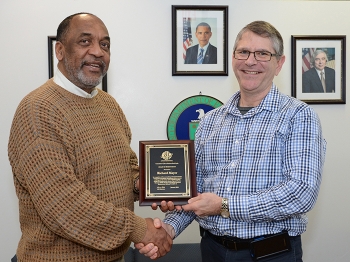 Richard Mayer, right, is pictured with Portsmouth Site Director Dr. Vincent Adams with a plaque commemorating Mayer's accomplishment.
PIKETON, Ohio – Decontaminating and decommissioning a more than 60-year-old Cold War uranium enrichment facility at the Portsmouth Gaseous Diffusion Plant is a task of extraordinary magnitude requiring stringent policies and procedures so work can be performed safely.
   That's where people like Richard Mayer come in. Mayer is a safety systems oversight engineer for EM who has worked in the nuclear industry for more than 30 years. A graduate of Ohio State University's chemical engineering program, Mayer has led teams that authored four standards for the esteemed American Standards and Testing Materials (ASTM) organization. ASTM standards dictate how work in the nuclear engineering environment is performed.
   "These standards are important because we incorporate lessons learned and apply sound scientific evidence to ensure that people can perform this type of work consistently," Mayer said. "And when people perform work more consistently, they perform work more safely."
   Most recently, Mayer led an ASTM writing group of about 15 professionals dedicated to standards related to Non-Destructive Assay (NDA), which is a range of analysis techniques to evaluate the properties of a component or system of components without disturbance of the system. At Portsmouth, NDA is used to measure uranium "holdup" material, or residues inside the uranium enrichment cascade, so the equipment is accurately characterized before removal.
   In January, one of the standards was approved, culminating more than six years of work by the group's members. The standard is titled ASTM Standard Guide for Non-Destructive Assay of Special Nuclear Material Holdup Using Passive Neutron Measurement Methods.
   Measuring uranium holdup in process gas equipment and auxiliary equipment is done by determining gamma or neutron radiation. Earlier in his career, Mayer helped develop a procedure for measuring gamma radiation in similar systems at DOE's Oak Ridge site.
   "We knew then that there was a need to develop a similar standard for neutron radiation," Mayer said. "Developing these standards is an exercise in perseverance, so it is rewarding for our team to have the standard approved."
   Mayer's other three NDA standards were for an enrichment meter principle, a guide to good NDA practice, and a guide to modeling. A Columbus native, Mayer has been a voting member of ASTM since 1990 and lives in Portsmouth, Ohio, with his wife, Jaclyn.