Growing American Energy: LPO investments in renewable biofuels and chemicals help harvest the nation's resources for a clean economy.
The Department of Energy's (DOE) Loan Programs Office (LPO) is supporting U.S. manufacturing and deployment of renewable fuels and chemicals to facilitate the transition to a clean energy economy. Decarbonizing these products is essential for meeting the Biden-Harris Administration's ambitious climate goals.
Supported by President Biden's Investing in America agenda, DOE initiatives, tax credits, and decarbonization goals across the public and private sectors, renewable fuels and chemicals will play a key role in achieving President Biden's bold vision of a net-zero economy by 2050.
LPO can finance renewable fuels and chemicals projects spanning the value chain to decarbonize essential resources for the modern economy.  
Why Renewable Fuels and Chemicals?
Decarbonizing fuels and chemicals is necessary for achieving the country's climate goals. Many goods and industrial materials used today, including fuels and plastics, are produced using petroleum feedstocks. By replacing these fossil fuel-based feedstocks with renewable alternatives such as agricultural crops, fats, oils, and greases (FOGs) like tree waste, construction waste, and agricultural wastes, manufacturers can make comparable end products that are lower carbon, carbon neutral, or even carbon negative.
The federal government is technology-agnostic and recognizes the need for an all-of-the-above approach to renewable feedstocks and end products. As such, LPO is prepared to finance eligible, technologically mature renewable fuels and chemicals projects across feedstocks, end uses, and processing technologies through the Title 17 Clean Energy Financing Program. Under the Title 17, Innovative Energy category, LPO can finance qualifying innovative fuels and chemicals projects. Under the Title 17 Energy Infrastructure Reinvestment category, LPO can finance projects that convert existing plants to renewable fuels and chemicals. Other DOE offices, including the Bioenergy Technologies Office (BETO) can support earlier-stage technologies.
 
Feedstocks (non-exhaustive)

End Products (non-exhaustive)

Fats, oils, and greases (FOGs)

Agricultural starches (corn, barley, wheat)

Animal waste/sludges

Sustainably sourced wood wastes

Agricultural waste and residues

Purpose-grown energy crops (e.g., switchgrass, miscanthus, etc.)

Municipal solid waste (biogenic & non-biogenic/plastic)

Renewable power and CO2

Sustainable Aviation Fuel (SAF)

Renewable diesel

Renewable gasoline

Low-carbon 1G or 2G Ethanol

Green Methanol

Renewable Hydrogen

Green Ammonia

Renewable Aromatics (Benzene, Toluene, Xylene)

Renewable Naphtha

Petrochemical replacements (e.g., Ethylene, olefins, propylene and derivatives such as polymers, ethylene oxide, glycols)

Bio-based, biodegradable plastics

Graphene

Biochar

Other low-carbon fuel and chemical replacements
Deploying these products at the necessary scale will require significant investment, and the impact will be self-reinforcing. Early projects will move the industry up the development curve and drive down costs, clearing the way for follow-on projects and investments. End uses of focus include:
Sustainable Aviation Fuel (SAF): SAF is the only near and mid-term viable solution for decarbonizing air travel. The air transport industry is relying on the success of SAF to reduce industry emissions at a time when air travel demand is high and rising.
Green Methanol for Marine Transport: Methanol is a promising renewable fuel for marine transport, which accounts for 3% of global greenhouse gas emissions. It may be especially useful for the large cargo vessels that currently rely on energy-dense fuel for voyages to transport most global goods.
Green Ammonia for Fuel and Fertilizer: Ammonia offers a stable way to store and transport clean hydrogen and can also be used as fuel and fertilizer. Large-scale deployment requires expanded production, development of mid-stream infrastructure for transport and storage, cost competitive renewable hydrogen, and establishment of distribution networks.
Renewable Diesel for Heavy Transport: Renewable diesel is drop-in replacement for convention diesel. In 2021, the United States produced over 800 million gallons of renewable diesel and used more than a billion gallons. Still, scaling production for widespread use will require significant additional investment.
The federal government is committed to supporting renewable fuels and chemicals and helping developers acquire necessary feedstocks, secure offtake contracts, and access the significant capital required for these projects.
Federal agencies, including the U.S. Department of Agriculture and the Forestry Service, are working to support feedstock availability. DOE's Clean Fuels and Products Shot and BETO support earlier-stage technologies across research, development, and demonstration. The Office of Clean Energy Demonstrations offers grants and prizes for technologies at the demonstration stage.
President Biden's Inflation Reduction Act (IRA) is already accelerating project timelines. Tax credits in the IRA, including the 45Q Credit for Carbon Oxide Sequestration, 45V Credit for Clean Hydrogen Production, and the 45Z Clean Fuel Production Tax Credit have dramatically improved project economics. Projects that were slated for the 2030s are being pulled forward several years.
LPO further supports these projects, the renewable fuels and chemicals vertical, and energy communities and tribes by providing attractive debt financing to eligible projects. By financing early deployments of renewable fuels and chemicals projects, LPO can mitigate this barrier and act as a bridge to bankability for emerging technologies, setting the stage for future larger-scale commercial investments in the space. By making utilization of existing energy infrastructure and tribe-owned projects more affordable, LPO financing can support energy communities in the energy transformation.
Types of Projects LPO Can Finance
LPO can finance a range of renewable fuels and chemicals projects that meet eligibility and programmatic requirements.
Projects may include, but are not limited to:
Feedstock Production, Acquisition, and/or Recycling: Producing, acquiring, and/or recycling feedstocks for end use in renewable fuels and/or chemicals.
Processing: Processing raw materials for use in renewable fuels and chemicals products.
Conversion: Converting a range of feedstocks to renewable fuels and chemicals (e.g., SAFs, renewable diesel, renewable gasoline, etc.).
Distribution and Logistics: Deploying source-to-destination logistics, packaging, and distribution of renewable fuels and chemicals.
LPO Authorities That Can Support Renewable Fuels and Chemicals Projects
LPO can finance renewable fuels and chemicals projects through several avenues:
Title 17 Clean Energy Financing Program – Innovative Energy and Innovative Supply Chain Projects (Section 1703): Financing for clean energy projects, including renewable fuels and chemicals projects, that use innovative technologies or processes not yet widely deployed within the United States for the proposed end use. These projects must show a meaningful reduction of lifecycle greenhouse gases emissions or air pollutants, either via the process itself or via the end use of the material.
Title 17 Clean Energy Financing Program – Energy Infrastructure Reinvestment Projects (Section 1706): Financing for projects that retool, repower, repurpose, or replace energy infrastructure that has ceased operations or to enable operating energy infrastructure to avoid, reduce, utilize, or sequester air pollutants or anthropogenic emissions of greenhouse gases. Projects may include conversion of existing refinery assets to produce renewable fuels and chemicals. These projects do not have an innovation requirement.
Tribal Energy Financing Program: Financing available to federally recognized tribes and qualified tribal energy development organizations for energy development projects, including projects related to renewable fuels and chemicals. These projects do not have an innovation requirement.
Renewable fuels and chemicals are vital to the clean energy transition and achieving the nation's climate goals. Let LPO partner with you to make your project a reality.
Next Steps
To learn more about how LPO could support your renewable fuels and chemicals project, please request a no-cost pre-application consultation. During the consultation, LPO will work with you to determine whether the project is eligible for financing.
To learn more about how DOE supports renewable fuels and chemicals projects across the research, development, demonstration, and deployment continuum, visit BETO.
Renewable Fuels and Chemicals Projects in LPO's Portfolio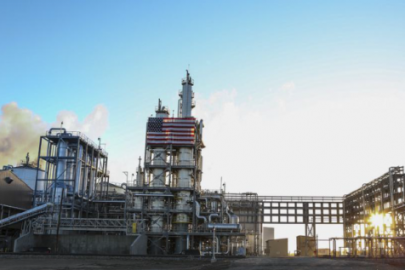 ABENGOA BIOENERGY
Using an innovative process, Abengoa Bioenergy's cellulosic ethanol plant converts non-edible crop residue into clean fuel.
Learn more