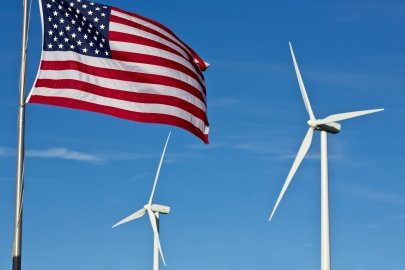 Why Clean Energy Matters
Transitioning the United States to a clean energy economy enhances economic growth, energy independence, and the health and well-being of the American people.
Learn more
Domestic manufacturing is using power and machinery to produce goods from raw materials at home. Domestic manufacturing for the U.S. energy sector is important because it creates American jobs and American-made products, strengthens national and energy security, and plays a major role in decarbonizing the industrial sector—which accounts for 28% of energy-related carbon emissions—to help meet the U.S. goal of a net-zero carbon-emissions economy by 2050. 
Competitiveness refers to a nation's level of productivity relative to others in the global economy. American competitiveness is important because it drives economic growth and income levels. Plentiful and affordable energy reduces a critical cost for U.S. businesses, which helps them grow and bolster the nation's competitiveness.  
The U.S. Department of Energy (DOE) and its Office of Energy Efficiency and Renewable Energy (EERE) are committed to increasing domestic manufacturing and competitiveness to achieve the following:
Reduce dependence on other countries for critical minerals and materials needed to manufacture clean energy technologies
Create well-paying jobs and bolster the clean energy economy. 
DOE supports workforce development to provide American workers with education and training to fill quality jobs in manufacturing, infrastructure development, and other industries related to clean energy.
Domestic Manufacturing and Competitiveness News
How DOE Supports Domestic Manufacturing and Competitiveness
DOE advances early-stage research and development (R&D) by providing funding and technical assistance for American innovators who can help make the United States the world leader in manufacturing clean energy technologies. While all EERE technology offices contribute to ensuring renewable energy technologies are manufactured in the United States while reducing greenhouse gas emissions, two of them wholly support this work:
Additionally, DOE's Office of Manufacturing and Energy Supply Chains and Office of Clean Energy Demonstrations support U.S. manufacturing and competitiveness by strengthening and securing supply chains and partnering with the private sector to deliver clean energy technology projects at scale. 
DOE builds relationships with the private sector to catalyze energy innovation in the United States. DOE partners with industry, small businesses, universities, and others to identify and invest in emerging technologies that can create U.S. manufacturing jobs, enhance global competitiveness, and reduce energy use by encouraging a culture of continuous improvement in corporate energy management. 
DOE helps the manufacturing sector capitalize on opportunities to improve industrial efficiency and product life cycles by helping manufacturers implement energy-efficiency measures, convert their facilities, or build new facilities to produce or recycle advanced energy technologies. The Qualifying Advanced Energy Project Credit (48C) is one example of support for manufacturers.
 
Learn About EERE's Work to Improve Domestic Manufacturing and Competitiveness
Subscribe to The Weekly Jolt
The Weekly Jolt is a digest of the top clean energy news, tips, events, and information from DOE and EERE.
Follow our Funding Listserv
Sign-up to receive the latest information about EERE's clean energy funding, prize, and competition opportunities.