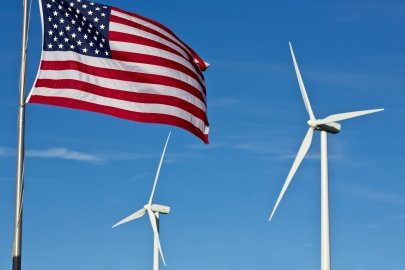 Why Clean Energy Matters
Transitioning the United States to a clean energy economy enhances economic growth, energy independence, and the health and well-being of the American people.
Learn more
Energy independence is the state in which a nation does not need to import energy resources to meet its energy demand. Energy security means having enough energy to meet demand and having a power system and infrastructure that are protected against physical and cyber threats. Together, energy independence and energy security enhance national security, American competitiveness, and economic standing.
The Biden-Harris administration's climate laws support U.S. energy independence and security. The Bipartisan Infrastructure Law provides $27 billion to upgrade and modernize the electrical grid to make it more resilient to extreme weather and resistant to cyberattacks. The Inflation Reduction Act increases American energy security through policies to support energy reliability and cleaner production, coupled with historic investments in American clean energy manufacturing. 
The U.S. Department of Energy (DOE) Office of Energy Efficiency and Renewable Energy (EERE) Cybersecurity Multiyear Program Plan guides cybersecurity research and development for EERE technologies.
Increasing Energy Independence and Security
EERE is working to achieve U.S. energy independence and increase energy security by supporting and enabling the clean energy transition. The United States can achieve energy independence and security by using renewable power; improving the energy efficiency of buildings, vehicles, appliances, and electronics; increasing energy storage capacity; and modernizing the electric grid. 
Renewable power supports energy security by increasing:
Diversity of electricity sources
Backup energy on the grid and battery storage
Local electricity generation 
Resistance to threats. 
Clean energy will reduce reliance on other countries for energy, technologies, and materials to build clean energy technologies. EERE supports reducing reliance on other countries by:
Increasing domestic manufacturing to produce American-made clean energy technologies
Securing the manufacturing supply chain 
Increasing material recycling, reuse, and recovery. 
Energy Independence and Security News
Benefits of Energy Independence and Security
When the United States is self-reliant on energy, it will create more American jobs in the clean power sector and related industries, such as manufacturing. Energy independence will trickle down to the clean energy supply chain, increasing national security, when materials and components are sourced domestically. In turn, this will support U.S. economic growth and prosperity.
Learn About EERE's Work to Increase Energy Independence and Security
Subscribe to The Weekly Jolt
The Weekly Jolt is a digest of the top clean energy news, tips, events, and information from DOE and EERE.
Follow our Funding Listserv
Sign-up to receive the latest information about EERE's clean energy funding, prize, and competition opportunities.