In a nation where we can take an exercise class from an app, go grocery shopping without setting foot in a store (or shoe), and video chat with a doctor in lieu of a visit, it seems like a natural step to introduce a digital hub that will serve up a collaborative laboratory workspace.
Now college students can have the opportunity to jump into the virtual world of the U.S. Department of Energy's Innovation Community Center, a place that will bring together the best minds in computing and research to tackle energy and environmental challenges with online tools.
The Office of the Chief Information Officer launched the Innovation Community Center to tap into innovation that is already occurring in laboratories and offices scattered across the country and allow students to join top researchers to work together.
The Innovation Community Center will produce production pilots, rapid prototypes and proofs of concepts - for instance if a carbon capture researcher in Pittsburgh and a carbon release researcher in Idaho Falls were both using artificial intelligence (AI) to monitor data for hourly trends, they could use the Innovation Community Center to build a pilot, solicit help, as well as find existing solutions to address mission challenges.
The Innovation Community Center will include a map of capabilities, and have a sandbox work environment that can serve as a testing ground for new projects in a low-risk environment.
Pamela K. Isom, Deputy Chief Information Office, Architecture, Engineering, Technology, and Innovation at DOE and the mastermind of the Innovation Community Center, said she's eager to engage students to help plan the design of the capabilities map, and anticipates hosting a student Design Thinking Session in the summer/fall of 2020 in Washington, D.C.
In order to get involved, students should email the Office of the Chief Information Officer at DOE.AETI@hq.doe.gov
To learn more about cyber innovations at the U.S. Department of Energy and the Office of the Chief Information Officer, visit our website.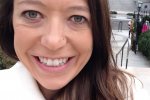 AnneMarie Horowitz
AnneMarie Horowitz has been with the Energy Department since 2009, and is the Director of STEM Rising, a priority Departmental initiative to highlight the science, technology, engineering, and mathematics (STEM) programs and resources of the agency.
more by this author