This Sunday, November 8, is National STEM Day. There's a plethora of ways to celebrate the value of and careers in science, technology, engineering, and mathematics (STEM), and the U.S. Department of Energy is here to help.
The Department of Energy's mission (like many other federal agencies and private sector companies) depends on STEM skills. Nearly 40 percent of our federal workforce are in STEM positions, and over 70 percent of our federal employees have a bachelor's degree or higher.
We know we must prepare the nation to have STEM graduates ready to take on areas of critical importance to our work, like advanced scientific computing research, basic energy sciences, biological and environmental research, fusion energy sciences, high energy physics, and nuclear physics, to name a few major scientific fields that our agency relies on.
So, celebrate National STEM Day with us and dive into some of the hundreds of programs we offer to advance STEM skills across the nation.
Get some inspiration from our STEM Rising: Women @ Energy series, with over 100 profiles of women in STEM jobs across all the National Laboratories and many program offices of the Energy Department. What inspired her to study STEM? Why does she love her STEM job? What advice does she have for others?
From computer technicians to chemists to nuclear engineers to biologists, the women in the profile series have advice you'll want to hear for studying STEM and following in their footsteps. View the full series at www.energy.gov/womeninSTEM
Subscribe to our STEM Rising Newsletter
You'll get a monthly download on all-things-STEM if you're a subscriber to our STEM Rising newsletter, delivering you content on free educational resources for all ages, events, trivia, internship and fellowship opportunities, and more. Make sure to subscribe today and you'll start getting updates with the November edition, which is published the last week of the month.
Check out our Teacher Resources
From the Fermilab Teacher Resource Center with things like NGSS-aligned STEM materials and help for you to develop a strategic plan for STEM, to activity books like the Harnessed Atom on nuclear science for MS, our teacher page on STEM Rising has links you'll want to bookmark to be ready for STEM in your classroom.
Tour a National Laboratory (Virtually)
Just about every Department of Energy National Laboratory (there's 17 of them, by the way!) has a virtual tour option, so you can learn about STEM careers and STEM innovations happening at our world-class National Labs straight from your own home. Visit our STEM Rising K-12 page and use the search feature to find virtual tours. The hard part will be picking where you start first!
Boost Your Resume with a STEM Work Experience
Whether you're a recent graduate, high school student, college student, or in a graduate program, there's plenty of options for you to find a place to make your resume stand out in a crowd and get hands-on, unforgettable STEM experience with our National Labs and headquarters.
On our STEM Rising College & Continued learning page you can find experiences like our Argonne National Laboratory Undergraduate Cooperative Education program, the Mickey Leland Energy Fellowship, or the National Nuclear Security Administration's Graduate Fellowship Program. HS students can view the K-12 page to see options for them to start off their career now.
Listen to our STEM Discoveries
You're only a podcast episode away from being hooked on the amazing world of STEM innovation at the Department of Energy. Our Direct Current podcast featured our work on expanding women in clean energy, powering the Mars Perseverance Rover, the origins of the Manhattan Project, and acid rain, just to name a few topics we've covered. Give it a listen today anywhere you get your podcasts (or right here on our website).
For much, much more on why STEM matters, and what we offer to get people engaged in STEM no matter their age, sex, zip code, income level, or background, make sure to visit STEM Rising online. Happy National STEM Day!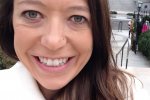 AnneMarie Horowitz
AnneMarie Horowitz has been with the Energy Department since 2010 and is a Public Affairs Specialist on the digital strategy team in the Office of Public Affairs.
more by this author