This week is National Computer Science Education Week (December 6-12) — a national call to inspire, train, and encourage K-12 students from all walks of life to pursue computer science. The U.S. Department of Energy (DOE) relies on a skilled workforce with knowledgeable experience in computer science, and actively works to broaden the diversity of the computer science workforce. Learn what the Department has been doing to advance computing skills for all students to accelerate the clean energy workforce of the future. 
Coding in the Classroom
DOE's Argonne National Laboratory and Fermilab work with the University of Chicago annually during Computer Science Education Week, sending over 50 computer scientists to Chicagoland schools for the Worldwide Hour of Code initiative. DOE scientists share their career path and their experiences at a national laboratory, and work with students to complete Hour of Code activities. Learn more here. 
DOE's Lawrence Livermore National Laboratory (LLNL) is once again partnering with the Livermore Valley Joint Unified School District and Tracy Unified School District to facilitate Girls Who Code clubs at local schools this fall. The response to the LLNL Girls Who Code collaboration has been tremendous: more than 400 Livermore students have participated in the program since it started in 2016. 
At DOE's Berkeley Lab in California, its Live Science virtual activity (on December 10 at 2PM PT) will explore the intersection of beat-making and coding, with a focus on the beat machine and the origins of Boom Bap. Attend this session and you'll be well on your way to learning how to code beats. 
DOE's Pacific Northwest National Laboratory (PNNL) works year-round to train teachers and provide extracurricular student programs and career-focused learning for students. The Lab also holds content workshops and professional training for teachers, and maps out strategic community partnerships that can increase the caliber of computer science education in their community. Check out their work here.  
PNNL's interactive, award-winning Network Collapse app helps students in grades 6–12 learn about information networks and is available for free download on the Oculus Go Store. 
Our Office of Cybersecurity, Energy Security, and Emergency Response's CyberForce Program offers students of all ages and backgrounds the chance to expand their cyber skills. This year, the CyberForce program expanded to include two additional mini-competitions, webinars, a career fair, and a workforce portal. Check out the CyberForce Competition here to get involved. 
Get More Info
Want to learn more about computing and energy? Visit our website for the Advanced Scientific Computing Research initiative, which leads the world in high-end computational science.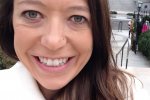 AnneMarie Horowitz
AnneMarie Horowitz has been with the Energy Department since 2010 and is a Public Affairs Specialist on the digital strategy team in the Office of Public Affairs.
more by this author