All this month we've been celebrating the Department of Energy's 40th Birthday. We tweeted 40 milestones for the past 40 years, released an episode of our podcast, Direct Current, where we interviewed our longest-serving employee – who's been here 54 years – and capped off our celebration this week with a birthday party, complete with cake.
A crowd of employees and distinguished guests gathered outside the Department of Energy's Forrestal Building in downtown Washington, D.C. Secretary Perry, Deputy Secretary Brouilette, and charter employee Frank Goldner gave remarks with NNSA Administrator Frank Klotz as master of ceremonies. The crowd included Representatives Marcy Kaptur, Joe Wilson, Chuck Fleischmann, Joe Barton and many of our 85 employees that have worked at the Department of Energy since it opened its doors on October 1, 1977.
Since then, the Department of Energy has gone through 13 Secretaries of Energy, weathered a fuel crisis, seen the end of the Cold War, and even helped establish a National Historical Park.
As Secretary Perry said in his remarks, if he had to choose one word to describe the Department of Energy, it would be "innovation."
And it's not just about looking back on the past four decades of innovation. We're also looking forward to the next 40 years – focusing on technological advancements, nuclear security, and training the next generation of STEM leaders.
You can watch a video of the ceremony above. And to learn more about the past 40 years of energy innovation, check out /energy40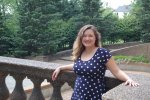 Allison Lantero
Served as Digital Content Specialist in the Office of Public Affairs.Served as Digital Content Specialist in the Office of Public Affairs.
more by this author