You are here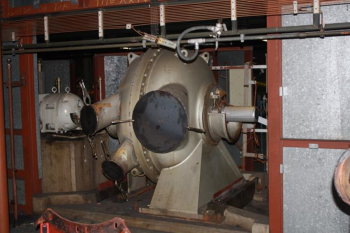 As part of deactivation efforts, process gas equipment is being removed from gaseous diffusion plant buildings.
Decades of uranium enrichment and support activities at Portsmouth required the use of a number of typical and special industrial chemicals and materials. Gaseous Diffusion Plant operations generated hazardous, radioactive, mixed (both hazardous and radioactive), and nonchemical (sanitary) wastes. Past operations also resulted in soil and groundwater contamination at areas located within plant boundaries.
The Environmental Cleanup Program was established by DOE in 1989 to identify, control, and remediate environmental contamination at the Portsmouth Site. The goal of the Cleanup Program is to evaluate and take appropriate actions to ensure protection of human health and the environment. The Environmental Cleanup Program at Portsmouth supports site investigations, environmental response actions, and decontamination and decommissioning (D&D) of inactive facilities.
Portsmouth environmental cleanup strategically integrates environmental remediation with the disposition of waste from past operations, cleanup efforts to date, and future cleanup activities including decontamination and decommissioning of facilities.  Decisions and projects take into consideration risk analysis, programmatic goals, legal requirements, regulatory milestones, stakeholder input, and available funding.
Cleanup Challenges
Beginning in 1989 at the Portsmouth Site, various remediation efforts have taken place to address groundwater and soil contamination.  These efforts include closing landfills and lagoons, removing waste and inactive facilities, and begin D&D of facilities.
The key strategies for the Portsmouth site are to continue operations of groundwater treatment facilities in support of installed remedies to cleanup groundwater and to continue disposition of excess uranium materials and remove stored low-level and mixed waste streams contaminated with hazardous or toxic chemicals. Portsmouth will also continue deactivation activities of various buildings, including hazardous material abatement.
The Department of Energy's environmental challenges today and in the near future are focused on completing removal of legacy wastes in storage, D&D of process buildings and support buildings, and the remediation of contaminated groundwater plumes and soil areas. The plant map below shows plant Quadrants (QI-QIV) for investigation based on groundwater flow patterns.