Environmental impacts occurred at the Portsmouth Gaseous Diffusion Plant during operations from 1954-2001. Remediation efforts began well before the uranium enrichment operations ceased in 2001. In 1989 the U.S. Department of Energy established the Office of Environmental Management for the purpose of remediating facilities within the nation's nuclear weapons complex. Various remediation efforts have taken place at the Portsmouth Site since 1989, to address groundwater and soil contamination. These efforts include closing landfills and lagoons, removing waste and inactive facilities, and decontaminating and decommissioning facilities.
Groundwater Cleanup Continues
>955 million gallons of groundwater from four onsite plumes have been treated
>37,788 pounds of trichloroethylene (TCE) have been removed from groundwater
All five groundwater plumes have ongoing groundwater treatment to contain and reduce contamination – either by pump and treatment through extraction wells and groundwater treatment facilities, bioremediation or phytoremediation.
More than 1,000 groundwater monitoring wells have been installed around the 3,777-acre federal plant site to sample and identify five separate groundwater areas, called plumes, primarily contaminated with Trichloroethylene (TCE). About 600 monitoring wells are sampled regularly.
>955 million gallons of groundwater from four onsite plumes have been treated and are currently managed by pump and treat and slurry wall technology. A fifth plume is being treated by phytoremediation using planted hybrid poplar trees.
>37,788 pounds of trichloroethylene (TCE), a degreasing solvent used during production years to clean uranium enrichment process equipment, have been removed from groundwater.
3,300 hybrid poplar trees were planted as part of an Ohio EPA-approved groundwater cleanup remedy (phytoremediation).
D&D Preparing for Future Use
After 10 years of preparation, the safe, controlled structural demolition of the large X-326 uranium-enrichment Process Building began in 2021. Prior to the start of demolition, the facility was deactivated, an effort that comprised more than 1 million measurements to identify residual contamination in the building, removal and offsite shipment of more than 7,000 components, installation of a water-runoff detention and treatment system, and installation of additional air monitors. The recently constructed Portsmouth On-Site Waste Disposal Facility was readied to receive demolition debris from the X-326 project and on-site groundwater and soil contamination plumes. Meanwhile, the X-333 Process Building is undergoing deactivation.
Also under the D&D project, the Portsmouth Site continues to change as 38 facilities have been demolished after deactivating utilities and removing stored waste, materials, process equipment, and piping. Existing buildings and temporary trailers are utilized for relocated personnel and services. Steam generation is provided by the X-690 Steam Plant that was constructed in 2012 to replace the X-600. The new steam plant is right-sized and more efficient than its predecessor.
>706,000 square feet of buildings demolished
Landfills & Lagoons Closed
Five landfills on-site have been closed in accordance with regulatory requirements. These landfills cover 60 acres and long-term surveillance and maintenance monitoring of the landfills continues today. The landfills were used for the disposal of a variety of wastes such as construction debris, low-level contaminated scrap materials, hazardous materials, classified materials, and sanitary wastes.
Besides the landfills, a number of sludge lagoons, impoundments and oil biodegradation plots have been remediated in accordance with Decision Documents issued under the Consent Decree with the State of Ohio and the Administrative Consent Order.
RELATED NEWS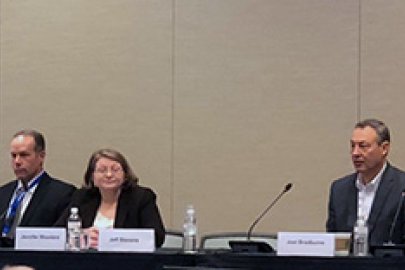 Officials Highlight Cleanup Progress at Portsmouth, Paducah
EM & contractor officials last week highlighted progress with cleanup projects underway at the former Portsmouth and Paducah gaseous diffusion plants.
Learn more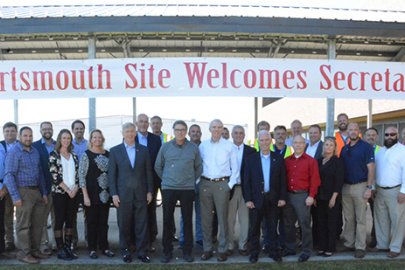 Secretary Rick Perry Tours Portsmouth Site D&D Projects
Energy Secretary Rick Perry recently toured EM's Portsmouth Gaseous Diffusion Plant Site and received updates on deactivation and decommissioning.
Learn more
Portsmouth Site Reaches Key Deactivation Milestone
PIKETON, Ohio – EM's Portsmouth Site and cleanup contractor Fluor-BWXT Portsmouth (FBP) recently finished deactivating the first floor unit of the X-326 Gaseous Diffusion Process Building, a milestone in preparing the cell for demolition.
Learn more