You are here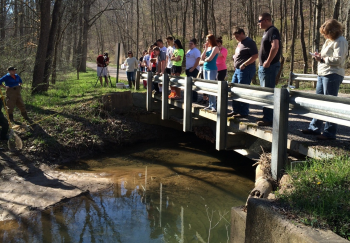 Students from Carla Evans' Advanced Environmental Science class at Waverly High School visit Lake Hope State Park as part of educational activities included within the Ohio University Student ASER Summary Project. The summary will be distributed to stakeholders in the region this fall.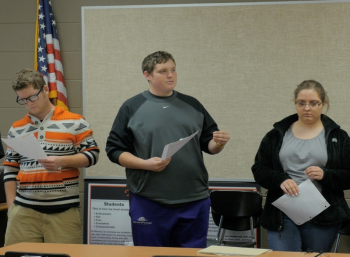 Hayden Johnson, center, provides his thoughts on the Ohio University Student ASER Project during a recognition ceremony in May. Also pictured are Jeffrey Noble and Elizabeth Montgomery.
PIKETON, Ohio – The U.S. Department of Energy's (DOE) Annual Site Environmental Report (ASER) is an approximate 300-page, technically complex document that characterizes various aspects of the Portsmouth Gaseous Diffusion Plant in Piketon, Ohio.
To a group of Waverly High School students who were tasked with summarizing it (complete with graphics), it was something else.
"It was pretty intimidating," said Andrew Trego, an 18-year-old senior who was part of Carla Evans' Advanced Environmental Science class.  The class took part in Ohio University's program to turn the ASER into a more comprehensible document to be distributed publicly throughout the region.
"They thought it was hard, but we broke the class into four groups and we got through it," Evans said.  "Some of the students had preconceptions about the site, but they came to have a better understanding of what really goes on there."
The class recently completed the project after working on it throughout the 2015-2016 school year.  Ohio University will print and publish the student summary of the ASER in the fall.  Daniel Kloepfer, a research associate in his first year of administering the program for OU's Voinovich School of Leadership and Public Affairs, organized field trips and scheduled guest speakers so the class would have a better understanding of the subject matter.  "I think one of the biggest values is that the students get to go and see the site," he said.
"I appreciated the speakers and how they talked about how their careers were made," said Evans, who has been a teacher at Waverly Schools for 14 years.  "They explained to the students that they didn't have to be straight-A students to have a professional career in science.  I think it allowed them to see what's possible."
For Trego, he had an appreciation for seeing the plant before its decontamination and decommissioning in the coming years.  "I really enjoyed (the project)," he said.  "I've always enjoyed history and I liked learning about the history of the plant.  It was a good opportunity for a lot of students to get to see something that many people will never get to see."
For Greg Simonton, a DOE representative who attended a ceremony recognizing the students in May, Trego's observation is exactly the point.  "Telling the story of the Portsmouth site and recognizing its historical significance is important and programs like this one allow us to do that," said Simonton, a Waverly High School alumnus.  "This generation of young people will play a vital role in determining how the plant site will impact the region's future."
-DOE-