You are here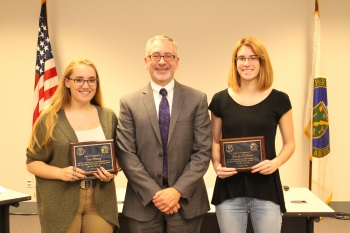 OREM Acting Manager Jay Mullis presented plaques of appreciation to ORSSAB student representatives Lara Manning, left, and Gabrielle McAllister.
The Oak Ridge Site Specific Advisory Board (ORSSAB) and the U.S. Department of Energy's Oak Ridge Office of Environmental Management (OREM) recognized Lara Manning and Gabrielle McAllister for completing terms of service as the board's student representatives for 2016-2017.
ORSSAB is a federally chartered citizens' panel that provides recommendations to OREM, which is responsible for the cleanup of the Oak Ridge Reservation. Each year the board seats non-voting student representatives from area high schools to engage the perspectives of local students on environmental issues. In addition to participating in monthly meetings, students serve on the board's Environmental Management & Stewardship Committee.
Lara and Gabrielle were honored at the board's May. Jay Mullis, OREM Acting Manager, presented the pair with plaques of recognition and congratulated the students on their recent accomplishments. "On behalf of the Department of Energy and the advisory board, I thank you both for your service and participation during this past year," said Mullis.
They also received thank you letters from ORSSAB Chair Belinda Price. "On behalf of the Oak Ridge Site Specific Advisory Board, I wish to thank you for your contributions to the board as a student representative during the 2016-2017 academic year," wrote Ms. Price.
"We know the meetings you attended required time you could have devoted to other activities and interests, especially during your senior year. Your commitment to our board has been greatly appreciated. Your dedication and enthusiasm made working with you an enjoyable experience, and we know these assets will serve you well in your future endeavors."
Lara graduated from Oak Ridge High School and will be attending the University of Tennessee-Chattanooga in the fall as a music major and minoring in psychology. She received a performance scholarship at UTC for voice and cello. She plans to attend graduate school for music cognition.
During her senior year she was a member of the National Honor Society and spent much of her time working with Youth Leadership Oak Ridge as a board member.
Gabrielle graduated with honors from Hardin Valley Academy. She was a member of the National Honor Society and was on the Hardin Valley bowling team that won in the regional competition. In the summer and fall of 2016 she did an internship with Tremont and the University of Tennessee science department.
Gabrielle will also attend UTC majoring in environmental science on a path that will help protect the environment.
ORSSAB meets the second Wednesday of each month at 6 p.m. at the DOE Information Center located at 1 Science.gov Way in Oak Ridge, Tennessee. Additional information about the board and its student representatives is available online at www.energy.gov/orssab or by calling ORSSAB staff at (865) 241-4583 or 241-4584.