You are here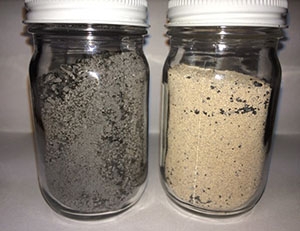 Samples of IWTU product from the November 2015 (left) and May 2016 (right) simulant runs. The May 2016 sample represents the desired results of the designed process.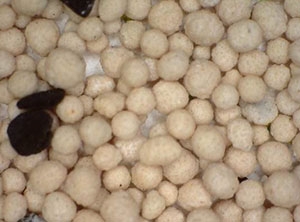 Magnified sample of product of the May 2016 simulant run. This is what IWTU product should look like: primarily carbonate granules with some coal particles.
IDAHO FALLS, Idaho – Several recommendations from technical experts who attended a Chemistry Summit in January and a Fluidized Bed Workshop in April have been incorporated into EM's Idaho Integrated Waste Treatment Unit (IWTU), and based on a recent simulated waste treatment test, the results look promising.  
   IWTU is intended to treat the approximately 900,000 gallons of remaining radioactive liquid tank waste at DOE's Idaho Site using steam-reforming technology to convert the liquid sodium-bearing waste to a granular solid, which is transferred to stainless steel canisters for safe storage and eventual disposal. 
   DOE's Idaho Operations Office and DOE headquarters convened the two meetings of scientists and engineers from several DOE sites to examine a problem IWTU was experiencing during advanced startup testing. At the Chemistry Summit, technical experts examined the chemical processes inside IWTU's reaction vessel, how the simulated waste feed was being applied, the type of fluidized media inside the vessel, and the temperature of the process. Scientists and engineers who attended the Fluidized Bed Workshop were tasked with examining how to improve the fluidized movement of the media inside the treatment vessel as simulated liquid waste was being injected into the fluidized bed.
Recommendations from both groups were incorporated into a waste simulant campaign that was completed in May. These recommendations included introducing supplemental carbon dioxide into the reaction vessel, reducing the feed rate of coal used in the process (to provide heat and carbon for reactions) to minimize the ash content of the product, changing how the waste simulant was injected into the reaction vessel, and maintain a fairly constant waste feed rate of 1.6 gallons per minute. 
   At the end of the 10-day waste simulant campaign, IWTU engineers and operators noticed a stark difference from previous waste simulant runs. The entire plant ran smoother; very little unburned coal was present in the waste simulant end product; and the waste product itself was the optimum size for packaging. There are some challenges that will require resolution before the next planned waste simulant run, though, and Fluor Idaho, LLC, which assumed the Idaho Cleanup Project Core contract on June 1, is studying the results of IWTU's last waste simulant run.
   Fluor Idaho has enlisted the help of world-renowned fluidized bed and steam-reforming experts to conduct bench-scale tests and use a smaller steam-reforming unit at the Hazen Facility near Denver to advance from the laboratory to an operational facility. Modifications, as necessary, will be made to IWTU based on lab and operations results.