You are here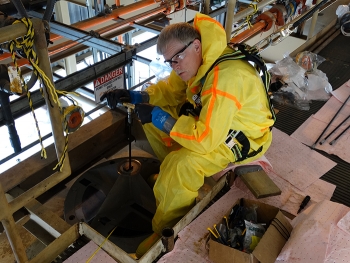 Thor Zollinger with Manta Robotics uses a rod to rotate the camera to perform the visual tank inspection with the HD camera.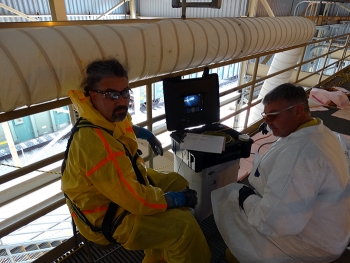 Frank Carney from Manta Robotics (left) and Kirk Barlow, BWCS systems engineering manager, use a monitor to see inside the tank.
LEXINGTON, Ky. – EM has adopted a safer, more effective method for internal tank inspections at the Depleted Uranium Hexafluoride (DUF6) Conversion Plants at the Paducah, Kentucky and Portsmouth, Ohio sites.
   After consulting experts from industry and DOE, the DUF6 Project decided to inspect the 10,000-gallon, rubber-lined tanks used for bulk storage of hydrofluoric acid (HF) by remote high-definition (HD) video camera instead of tank entry.
   "This is a good example of how technology can be used to improve safety and performance," said Robert Edwards, manager of EM's Portsmouth/Paducah Project Office (PPPO). "By developing and implementing techniques and procedures to use remote video instead of placing an individual in the tank, the DUF6 Project enhanced worker safety while at the same time accelerating in-field inspections."
   DUF6 resulted from uranium enrichment during decades of operations at DOE's former gaseous diffusion plants. HF is a co-product of the conversion of DUF6 into depleted uranium oxide.
   The tanks' rubber liners protect the metal tank bodies from the corrosive properties of the acid, and after time they require internal inspections to verify the integrity of the liners.
   The industry standard for conducting internal inspections of lined tanks had involved entering them for a one-time visual assessment and spark testing, in which a charged wire brush sparks if gaps or breaks in the rubber liner are present. Hazards related to confined space, chemical exposure and heat stress combine to create a high level of risk.
    BWXT Conversion Services LLC (BWCS) is the project operating contractor for EM's two plants that convert DOE's more than 800,000 metric tons of DUF6 into more stable depleted uranium oxide and HF for disposal or reuse.
   Manta Robotics of Firth, Idaho provided a custom fixture and expertise to remotely operate a chemical-resistant HD camera. The fixture allows for radial scans across the internal liner surface. Locations of interest are recorded for further scrutiny and future reference.
   Several techniques for streamlining the new evaluation technology were developed during the implementation, and limiting hours to night and early morning while using a portable air conditioner for the Manta technicians limited the impact of heat stress during summer.
   The additional techniques complement the camera inspection, providing a robust and comprehensive assessment of the tank liner properties. Measurements taken along the liner surface confirm its hardness properties remain acceptable. Conductivity testing is performed by introducing an electrical current into the liquid-filled tank. Any breaches in the liner will allow electrical current to flow into the metal tank body and will be measured on a test instrument. If necessary, ultrasonic testing of the metal tank body can further detect whether internal corrosion takes place. Acid samples taken from the tanks at regular intervals during plant operation are analyzed for iron concentration, providing an early indication of tank liner flaws.
   Use of a remotely operated HD image capture technique established a new standard for the internal evaluation of lined tanks by providing high-quality results and eliminating the hazards associated with confined space entry and potential chemical exposure. The video record allows a more objective evaluation of the liner surface to be performed remotely by multiple observers as compared to a single individual subjected to the stress of restrictive personal protective equipment and a confined space. This approach provides evidence that the performance of traditional spark testing and its associated risk of potential damage to the liner surface is not necessary.
   "The safety of our employees is our overriding priority, and we are constantly looking for ways to eliminate hazards," said BWCS Project Manager John Woolery. "This initiative is a great example of effective implementation of the hierarchy of controls, and the Integrated Safety Management System and continuous improvement process at work."