David F. Conrad (Osage Nation) serves as the deputy director for the U.S. Department of Energy Office of Indian Energy Policy and Programs. He recently served as the Director of the Office of Public Affairs for the Assistant Secretary of Indian Affairs in the Department of Interior (DOI), managing press relations, digital media, and communications in close coordination with the Secretary's Office of Communication and other DOI Bureaus. In the past, Mr. Conrad also worked as the Department's Director for Tribal and Intergovernmental Affairs in the Office of Congressional and Intergovernmental Affairs, where he was responsible for intergovernmental affairs with tribal, city, and county governments.
Mr. Conrad represented the Department on federal interagency working groups such as Strong Cities, Strong Communities; improving Sacred Sites protection; and the White House Council on Native American Affairs, and coordinated Department-wide implementation of its federal Indian Policy including increasing working knowledge of strengthening positive working relationships with tribal governments on issues related to the Department's scientific, energy development, environmental cleanup, and national security mission.
Mr. Conrad has 20 years of intergovernmental affairs experience in the energy, environmental, economic development, and natural and cultural resources arenas.  Mr. Conrad has served in intergovernmental, legislative, and public affairs positions supporting tribal and local governments, and has experience working with legislative bodies at the federal, tribal, state, and local levels.  He has also held executive leadership positions in the non-profit sector with the National Tribal Environmental Council and the Council of Energy Resource Tribes.
Mr. Conrad holds a Bachelor of Arts in Political Science from Santa Clara University and a master's degree in Environmental Policy and Administration from the University of Wisconsin at Green Bay.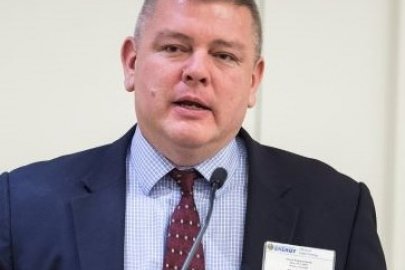 Meet Our Team: David Conrad's Career in Public Service Comes Full Circle
In this "Meet Our Team" blog series, we introduce David Conrad, the Deputy Director of the Office of Indian Energy.
Learn more