The U.S. Department of Energy's Tweedie Doe Shares Her Perspective During AANHPI Heritage Month
May is Asian American, Native Hawaiian, and Pacific Islander (AANHPI) Heritage Month in the United States. Across the federal government, it's a time set aside to celebrate the many ways the United States is strengthened and enriched by the voices, perspectives, and contributions of Americans who trace their ancestry to any of the diverse communities throughout Asia, Hawaii, and the Pacific Island territories.
At the Office of Indian Energy, we mark the occasion as an opportunity to honor our AANHPI colleagues, whose experience, insights, and efforts contribute greatly to our mission. In that spirit, we asked our team member Tweedie Doe to share her perspective.
Below, in Tweedie's own words, she reflects on her experience as a first-generation Vietnamese-American. Read on and learn how her sister's journey from Vietnamese refugee to American citizen influenced her life and shaped her own understanding of resilience.
My grandniece arrived into this world on a fine morning this May. As a third-generation Vietnamese American born in the United States, she is separated from her grandmother's birthplace by 9,000 miles and seven decades.
I want to tell her a story of her grandmother's journey—not the arduous trip that carried my sister, Chị Năm, from Viet Nam to the United States, but the passage from a young refugee woman not speaking a word of English to the resilient American she is today.
Forty-seven years ago this month, as Chị Năm stepped off the plane in Los Angeles, a crowd gathered to stare and point. She didn't understand a word they were saying, but she could feel their intense curiosity for the people who arrived with only "pajamas" on their backs. She smiled. She always smiles. It shows her brilliant teeth and courage. She clutched a little tighter on my small hand as we walked into our new home country.
Chị Năm (sister number five) had only a couple of years of formal education. Life was teaching her how to make lemonade from the lemons, salt, and sugar she was given—she is a good student. My beautiful role model is not an idle person—far from it. She started working from a single-digit age and has not stopped.
After she learned to string a few American words together, she immediately got a sewing job earning $2.10 an hour. She took us to the only Chinese restaurant in town every other Friday after she got her paycheck. The owner saved our table for this happy ritual until one day in 1979 when we didn't go there anymore.
She soon learned how to drive and bought a beige Dodge Dart—the same car she taught me to drive on hot summer days in 1982. She tells me of many fun memories made, and some bad ones too, in learning to live in her new world and leave all she knew and loved behind.
My sister was strong as a water buffalo astounding everyone with how much weight she could carry. She was as bold as to be herself, to wear her áo dài (a traditional Vietnamese national garment) when it pleased her, to eat her food with fish sauce, and to freely speak the curlicues of her mother tongue in a land of short shorts and hamburgers. Who wears short shorts? Not my sister, but she learned to make the most decadent "Namburgers"!
Chị Năm got married and had children and worked more hours than there were in a day, a week, a month, a year. She never slept much and was never tired, and the little amount of rest never bothered her until recently, as the years are breathlessly catching up with her human body. 
She often worked through the darkest hours of the night, and through summer holidays some people may take for granted. She stopped only to make the best phở and chả giò in the world(!), love her children, clean her home, then do it all again. Her boys went to school and achieved more formal education than she could ever imagine; they give back to their mother the endless love she gives them every day of her life.
It was shortly before her first grandbaby was born 6 years ago when Chị Năm decided to apply for her U.S. citizenship. She was granted the privilege without fanfare, as when she quietly departed from her birthplace in 1975. She was sworn into allegiance with others like her, who came from many other lands seeking refuge and opportunities to build a better world.
My beautiful grandniece of a few days old is already weaving the past and future into a stronger fabric: what has been achieved that cannot be taken; what will be fortified by her parents' pursuit of education and dedication to family; and above all, a future stitched by her grandmother's perseverance, endurance, and drive to participate in a better tomorrow.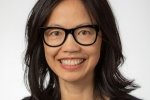 Tweedie Doe
Ms. Tweedie Doe is a Project Officer with the U.S. Department of Energy (DOE) Office of Indian Energy Policy and Programs.
more by this author