You are here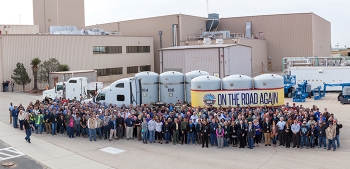 EM Waste Isolation Pilot Plant federal and contractor employees gather to celebrate receipt of the first shipment of transuranic waste since the facility reopened earlier this year.
CARLSBAD, N.M. – EM's Waste Isolation Pilot Plant (WIPP) is once again receiving shipments of transuranic (TRU) waste from around the DOE complex. A shipment from the Department's Idaho Site arrived in the early morning on April 8, marking an important milestone for the facility. 
   WIPP had not received a shipment since February 2014, when a truck fire and unrelated radiological event suspended emplacement operations, resulting in the continued storage of TRU waste at DOE generator sites. WIPP resumed waste disposal operations in January, first emplacing waste that had been stored above ground at the facility since the 2014 events.   
   "To see shipments arriving again at WIPP is celebrated not only by the WIPP workforce and the Carlsbad community, but also by our DOE host communities that support the critical missions of the Department," EM Carlsbad Field Office Manager Todd Shrader said.
   "What a great day. Waste is back on the road again," said Phil Breidenbach, president and project manager for Nuclear Waste Partnership (NWP), WIPP's management and operations contractor. "The DOE National TRU Program and Nuclear Waste Partnership's Central Characterization Program (CCP) work as true partners in preparing and certifying the waste to ship. I'm proud of their effort in strengthening the program and in their commitment to executing it with such care." 
   Creta Kirkes, an NWP CCP waste certification official, said, "The resumption of shipments to WIPP means we are once again solving a national problem, and it feels great to be back in business." Kirkes has worked at WIPP for 28 years. 
   Yolanda Navarrete, an NWP human resources specialist, has worked at WIPP for 26 years. She said the day WIPP resumed shipments was as exciting as the facility's opening in March 1999.
   "I'm very proud of the reopening of WIPP and the great job done by the entire team," Navarrete said. 
   Bob Beeman, NWP engineering programs supervisor, said seeing the waste arrive again is the result of employee and family sacrifice for the greater good of the nation.
   "The resumption of waste receipt means teamwork and ownership is alive and well at WIPP," said Beeman, who has worked at WIPP for more than 24 years. 
   For Pete Allen, an NWP engineer, the reopening represents a new beginning for the WIPP community.
   "Waste receipt is the end of a long journey that employees should be proud of," said Allen, who has worked at WIPP for more than 27 years.
   WIPP currently plans to receive two shipments a week, ramping up to four shipments a week by the end of 2017. Initial shipments are expected from Idaho, Savannah River Site and Waste Control Specialists. Shipments from Oak Ridge and Los Alamos National Laboratory are expected later this year.