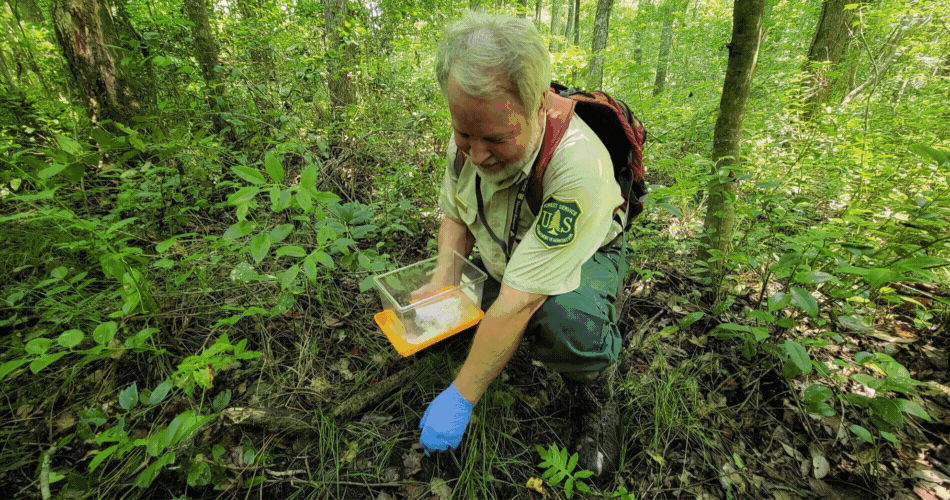 This series of photos shows the release of offspring of confiscated eastern box turtles at the Savannah River Site by the University of Georgia Savannah River Ecology Laboratory and its partners earlier this year.
A happy ending for baby turtles, a victory for partnerships in action
AIKEN, S.C. – The University of Georgia Savannah River Ecology Laboratory (SREL) and other collaborators have successfully released offspring of confiscated eastern box turtles at the Savannah River Site (SRS).
The accomplishment was the culmination of a story four years in the making following the journeys of over 200 confiscated eastern box turtles, their offspring and owner-surrendered turtles.
Joining the laboratory in the effort were the South Carolina Department of Natural Resources (SCDNR), USDA Forest Service - Savannah River (USFS-SR) and the Riverbanks Zoo and Garden.
In August 2019, 200 illegally collected turtles were recovered from inhumane conditions.
"Many turtles were emaciated," said Tracey Tuberville, an SREL senior research scientist. "They didn't have any access to food, water or even bedding."
Andrew Grosse, state herpetologist with SCDNR, said, "What does anyone do with 200 confiscated turtles? Most rescues, rehab facilities and zoos do not have the capacity to care for that many turtles."
Within hours of being contacted, Tuberville and Kurt Buhlmann, SREL senior research associate, jumped into action. They quickly created space for the turtles at the laboratory's facilities housed at SRS. There, the turtles could heal.
Working together, SREL, USFS-SR and SCDNR selected potential release sites on the SRS for a permanent home for the turtles once they recuperated. Shortly after, Charlie Davis, forest ecologist with USFS-SR, offered personnel and equipment to assist with building soft-release pens.
Such resources from SREL and its partners set up the turtles for success. They were released on lands routinely managed and monitored by a variety of agencies on the SRS.
"No one can collect from this site," Buhlmann said. "It's protected."
Grosse added: "This is a testament to good partnerships and being able to implement a plan quickly."
The achievement is a demonstration of the hard work of many agencies working together to protect a species.
As part of ongoing research efforts, the turtles' movements, survival, reproduction rates and health will continually be observed by Tuberville, Buhlmann and Ryan Rimple, an SREL graduate student.
"This release is an example of success for the future. It took collaboration to make it a triumph," Tuberville said.
Rimple is monitoring and tracking the spread of ranavirus in the turtles as part of a long-term study funded by the Riverbanks Zoo and Garden. The study concludes at the end of this year, with findings being shared in late spring 2024.
Rimple said, "Perhaps even more impactful than allowing those turtles to contribute to wild populations, we've been able to provide invaluable novel data to our conservation partners to help guide" the conversation on what to do with confiscated turtles.
In other Savannah River Site wildlife news...
As the offspring of confiscated eastern box turtles make a splash at the Savannah River Site, endangered red-cockaded woodpeckers continue to grow in numbers at the site. Mike Budney, EM site manager, joined U.S. Forest Service personnel to observe the monitoring process for the woodpeckers. Read the full EM Update story here. 
Email Updates
To receive the latest news and updates about the Office of Environmental Management, submit your e-mail address.