You are here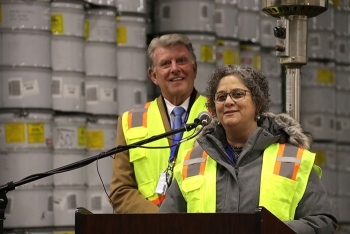 Idaho governor C.L. "Butch" Otter listens as Acting Assistant Secretary for Environmental Management Sue Cange addresses guests at the AMWTP Retrieval Completion Celebration on Thursday, March 2.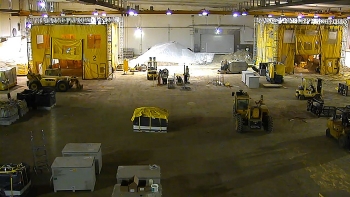 At one time more than 150,000 drums and boxes of transuranic waste were stored in the Transuranic Storage Area-Retrieval Enclosure. Now, with those containers safely retrieved, all that remains is the equipment and structures used to finish their retrieval, including the two yellow Inner Contamination Enclosures that were placed over severely degraded containers, adding another level of containment during retrieval.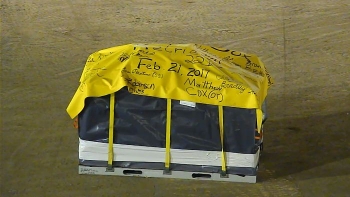 The final waste box, the last of the containers that held more than 50,000 cubic meters of waste, is wrapped and awaiting removal from the Retrieval Contamination Enclosure, located inside the Transuranic Storage Area-Retrieval Enclosure. The work was performed by employees working on the Idaho Cleanup Project Core contract.
IDAHO FALLS, Idaho – On March 2, workers at DOE's Idaho site celebrated the completion of transuranic waste retrieval activities at the Advanced Mixed Waste Treatment Project's Transuranic Storage Area-Retrieval Enclosure (TSA-RE).
   For more than 20 years, the gigantic building–covering seven acres of land—has been the temporary storage location for the largest stockpile of legacy transuranic waste in the DOE complex. The TSA-RE covered an earthen berm that protected more than 50,000 cubic meters of metal drums and boxes containing transuranic waste. An additional 15,000 cubic meters of waste had been stored in nearby storage modules.
   Excavation and retrieval activities began in 2003, and the last box was safely retrieved in February. Each of the drums and boxes retrieved from the TSA-RE has, or will be, repackaged and prepared for shipment out of Idaho for final disposal. A celebration to mark the completion of retrieval activities and honor the AMWTP workforce included Idaho Gov. C.L. "Butch" Otter, Lt. Governor Brad Little, Attorney General Lawrence Wasden, Acting EM Assistant Secretary Sue Cange, DOE Idaho site management, and several area elected officials.
   "Due to the skill and dedication of our staff, AMWTP has made remarkable progress over the years. We owe a great debt of gratitude to every employee who has worked on this project, and recognize that   its success includes contributions from employees all across the DOE complex," said Jack Zimmerman, Deputy Manager for the Idaho Cleanup Project at the DOE Idaho Operations Office.