You are here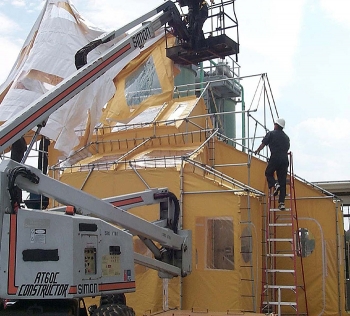 A worker climbs the stairs of a radioactive waste processing containment hut built on a specially-designed, free-standing frame.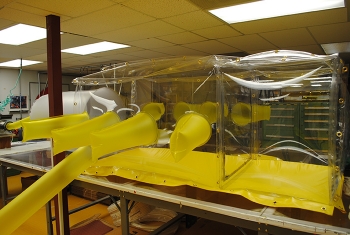 Containment Fabrication Facility workers created a waste repackaging glove bag used for processing radioactive materials.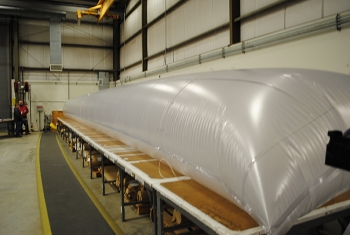 Workers at the Containment Fabrication Facility created an engineered equipment removal sleeve for elevated wind speed applications.
AIKEN, S.C. – The Savannah River Site's Containment Fabrication Facility achieved a perfect record in the last year.
   The custom fabricator managed by Savannah River Nuclear Solutions (SRNS), the site's management and operations contractor, crafted more than 1,900 items for a variety of operations across the site without a single rejection. Every containment worked as designed.
   "We're proud of that record, but even more proud that we can help with the mission across the Savannah River Site by fabricating containments that control contamination at its source," said Sid Melcher, who oversees the facility for SRNS. 
   The containments reduce risk to workers by controlling the spread of contamination and reducing waste.
   A seven-member staff creates more than 90 percent of the items, everything from containment huts to glove bags and specialty equipment covers, for radiological and non-radiological purposes. The facility was established in 1999. 
   "Most of the staff are construction craft carpenters, which fits our needs because of the complex layout work and measuring that's needed," Melcher said. "Our team was hand-picked from across the site, and we've also tried to bring in some younger folks and give them some on-the-job training."
   The workers fabricate most items with a synthetic plastic polymer material and seal them with radiofrequency welding machines.
   "It takes a unique individual to perform this work. To many of our staff, this is more like a craft or an art project. It's really very similar when you think about cutting out the custom designs and sealing it so that it comes together to fill a very specific need."
   Melcher said each job is unique and depends on the project's needs. Staff members take part in field walk-downs, and planning, design and development of each containment.
   "It's something different every day, which is always a challenge and always rewarding," Melcher said.