You are here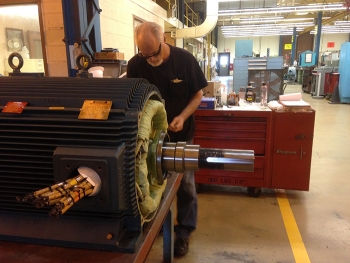 Terry Weaver works at the Savannah River Nuclear Solutions Breaker and Motor Shop.
AIKEN, S.C. – EM's Salt Waste Processing Facility is scheduled to begin operations in December 2018, with contractor Parsons getting support from Savannah River Nuclear Solutions (SRNS), the site's management and operations contractor, and Savannah River National Laboratory to ensure it remains on track. 
   SWPF will process the majority of the Savannah River Site (SRS) salt waste inventory by treating highly radioactive salt solutions stored in underground tanks. Removing salt waste is a major step toward emptying and closing the site's remaining 43 high-level waste tanks, as that waste takes up more than 90 percent of their space.
   As SWPF testing continued last month, concerns about temperature trends for the motors of the facility's exhaust fans prompted engineers with SWPF contractor Parsons to request troubleshooting to ensure adequate performance.
   "We needed a motor evaluated quickly, and while we had several offsite vendors who could do the work, getting them qualified to meet the standards of this kind of nuclear facility would have added several weeks at a minimum," SWPF Project Manager Frank Sheppard said. 
   But help was just around the corner. 
   SWPF Maintenance and Work Control Manager Mike Ward, an employee at SRS for more than two decades, suggested Parsons ask the onsite motor shop to help.
   Ultimately, SRNS teamed with Parsons and EM to develop a work scope, troubleshoot the motors and perform maintenance testing with parts supplied by Parsons. The motors were returned to SWPF in 10 days, and the work cost about $7,000.  
   "This is a big part of our job — providing important services to help all the contractors and projects at the Savannah River Site succeed in supporting these important Department of Energy missions," SRNS President Stuart MacVean said. "In this case, our team was able to provide their expertise to Parsons and get the motor maintenance performed and back to SWPF in a few days at a fraction of what it would cost at an offsite vendor."
   Ward said the teamwork led SRNS and Parsons to consider other collaborations.
   "It really worked well because I could have people up there watching, learning and providing oversight," Ward said. "It's started a good dialogue on what other services are available through SRNS."
   In another partnership, SRNL, which is managed by SRNS, trained Parsons staff for the SWPF analytical laboratory.
   "We needed to have somewhere we could use radioactive material in training our staff and developing our methods," SWPF Operations Manager John Pearson said. "SRNL has been a great resource, not only providing the lab space but training our staff so that we don't have to learn things the hard way. We'd much rather learn from their experience."
   Since August, seven Parsons workers have completed SRNL training. They are now certified to work independently and were able to prove their methods in a lab environment to show they can get the consistent results necessary once the SWPF lab is in operation.
   "Our personnel have been doing this kind of work in a radiological environment for decades. We truly understand the hazards, pitfalls and the techniques vital to a successful laboratory," SRNL Analytical Laboratories Director Curt Gardner said. "We also understand how to develop the methods to do this work, establish the controls and the quality functions to make sure the lab is achieving what it wants to achieve. I think we've been able to help them make a generational jump by being paired up with us for a while."
Email Updates
To receive the latest news and updates about the Office of Environmental Management, submit your e-mail address below.