You are here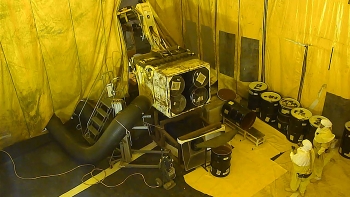 Retrieval operators in an inner contamination enclosure empty a bin of its drums.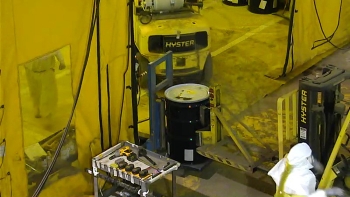 Workers overpack the old drums in new drums before sending them for characterization and processing based on the type of waste inside of them.
IDAHO FALLS, Idaho – Workers removed more than 53,000 cubic meters of transuranic waste stored in an Idaho Site enclosure, creating space to safely treat other waste.
   Waste to be treated at the Transuranic Storage Area-Retrieval Enclosure (TSA-RE) comes from pits and trenches in the Radioactive Waste Management Complex's (RWMC) Subsurface Disposal Area. In the 1970s, workers loaded some of this waste into 55-gallon drums. Those drums were then placed in bins, with each bin holding eight drums. 
   The M-III Bin Project has more than 200 bins to empty. Crews that completed the transuranic waste retrieval are now unloading the bins in the TSA-RE's repurposed Retrieval Contamination Enclosure. Due to its former mission, this enclosure has a robust ventilation system, and airlocks and two inner contamination enclosures prevent the potential spread of contamination.
   Contractor Fluor Idaho, which manages EM's cleanup at the site, will use proven treatment processes designed to treat the various types of waste in the 55-gallon drums. Workers will remove the drums from the bins, overpack them in new drums and remove them from the enclosure. Fluor will use approved treatment processes specific to each drum.
   Different treatment processes will be used depending on the drums' contents. For example, a bin may contain three drums with sludge waste that can be handled at the site's RWMC Accelerated Retrieval Project's Sludge Repackaging Project; two drums with mixed low-level waste that can be repackaged and shipped to an offsite repository; and three drums with debris waste that can be treated by compaction at the site's supercompactor in the Advanced Mixed Waste Treatment Project.
   Crews expect to complete treatment of the waste in the bins this summer.