You are here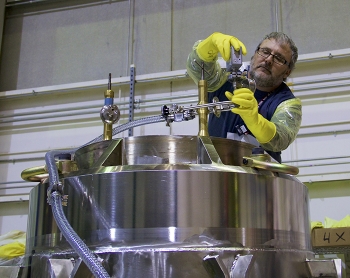 A worker prepares the cask containing 19 TRIGA fuel elements for shipment to the University of Maryland.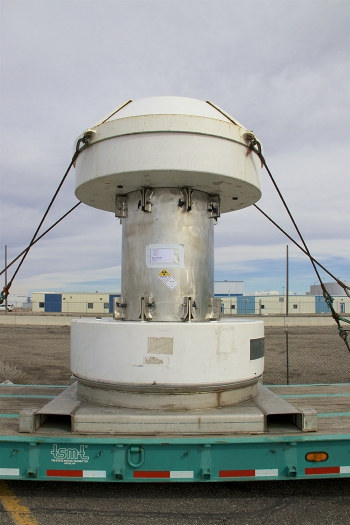 A view of the cask containing TRIGA fuel in preparation for shipment.
IDAHO FALLS, Idaho –  A University of Maryland research reactor will continue operating as a result of a collaboration with EM's Idaho Site.
   "We are pleased that the Department is able to fill urgent domestic TRIGA (Training, Research, Isotopes, General Atomics) fuel needs by reusing fuel in our inventory that has only been used previously in a TRIGA reactor for a short time and thus still contains most of its fission energy," said Jack Zimmerman, deputy manager for the Idaho Cleanup Project at the DOE Idaho Operations Office.  
   EM and its cleanup contractor Fluor Idaho and DOE's Office of Nuclear Energy worked together to complete the project. Fluor Idaho fuel handlers retrieved 19 lightly irradiated fuel elements in storage since 2009 at the Idaho Nuclear Technology and Engineering Center's (INTEC) Irradiated Fuel Storage Facility.
   Crews loaded the fuel into a cask and placed in on a flat-bed trailer for shipment to the university in College Park, Maryland. It safely arrived last month.
   "This was a very rewarding experience," said Fluor Idaho Nuclear Project Engineer Alan Robb. "So many entities and individuals worked tirelessly to ensure the University of Maryland could keep their TRIGA reactor operating. It was fortuitous that we had the precise fuel they needed. I'm glad Fluor Idaho had a significant role ensuring the continued use of this research reactor."
   Plans are underway to ship more fuel to other TRIGA reactors in upcoming years following this successful project.
   Scientific institutions and universities run TRIGA reactors for undergraduate and graduate education, commercial research, nondestructive testing and isotope production.
   The university has used its 250-kilowatt reactor, which has operated since 1973, to train young researchers interested in nuclear energy. A lack of available commercial fuel had threatened its shutdown.
   "There were many, many people who came together as a team to ensure this expedited task could be safely executed," Robb said. "Operations, engineering, facility engineering, fuel handling operators, radiological technicians, supervisors, facility managers and other support personnel were all engaged in this Herculean effort."
   Such tasks usually take about six months, but the Fluor Idaho team did it in just seven weeks due to the university's need for fuel and constraints on the cask's availability.
   "I am very proud of the Idaho fuel handling and packaging teams and their ability to work together to get the job done quickly and safely," Zimmerman said.