You are here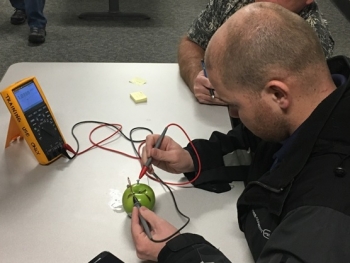 Students, including engineers and electricians, attending a DOE Training Institute battery safety training at Idaho National Laboratory create "batteries" using fruits and vegetables and dissimilar metals.
IDAHO FALLS, Idaho – Fluor Idaho, EM's Idaho Cleanup Project contractor, expects to save more than $100,000 in tuition, contract development and procurement costs by using the DOE Training Institute's (DTI) electrical safety training. 
   DTI is a unique partnership between the National Training Center and the Volpentest Hazardous Materials Management and Emergency Response (HAMMER) Federal Training Center. The institute offers health and safety training to EM federal and contractor employees. HAMMER, which is managed by Hanford Site contractor Mission Support Alliance, provides training to Hanford workers, emergency responders and homeland security personnel.    
   "DTI is the solution to a variety of training issues. The most important benefit of using DTI is improved worker safety through DOE mission-focused training," said Ashley Morris, DOE senior advisor for HAMMER and DTI.
   DTI-certified instructors led four courses for 86 Fluor Idaho employees between November and January. The training was essential for personnel to maintain state electrical licenses.
   "DTI's instructors have made a difference in both the efficiency and effectiveness for this specialized training," Fluor Idaho Training Manager Dave Lent said. "From our Fluor Idaho experience, DTI instructors have the potential to be a significant benefit to other contractors."
   After its positive experience with DTI's mobile training capabilities, Fluor Idaho plans to have the team return in April. 
   Additional information regarding DTI can be found here.