You are here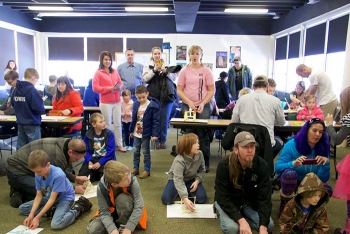 The intensity of kids and parents creating catapults can be seen in this "bulls eye" view of the launch action at the Museum of Idaho – Fluor Idaho's Engineering Day.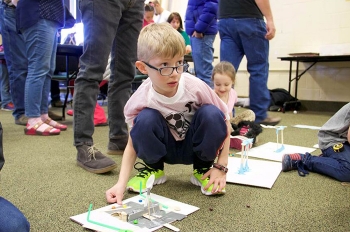 A determined young participant in the Museum of Idaho – Fluor Idaho Engineering Day puts his newly designed catapult to the test.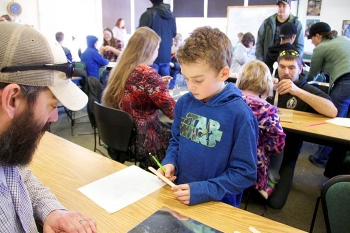 Parents played an important role in the Museum of Idaho – Fluor Idaho's Engineering Day by helping their children understand engineering design can be fun.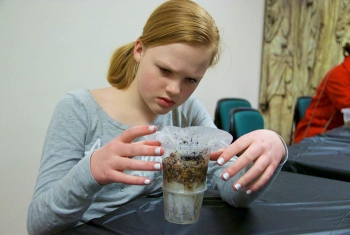 Designing water filtration systems was an activity that attracted eastern Idaho students to the Museum of Idaho – Fluor Idaho's Engineering Day.
IDAHO FALLS, Idaho – More than 300 engineer wannabes discover a fun way to understand basic engineering principles at the Museum of Idaho-Fluor Idaho Engineering Day on Saturday, Feb. 25.
   Sponsored by Fluor Idaho, participants had a chance to learn the engineering behind catapult construction and water filtration devices. The water filtration engineering has a special significance for the Fluor Idaho team and its mission to protect the Snake River Plain Aquifer, the primary drinking and irrigation water source for more than 300,000 Idahoans.
   Working with partners from Idaho State University and the Museum of Idaho, Fluor Idaho personnel provided instruction to students and parents who attended the Engineering event, held at the Museum of Idaho in Idaho Falls, ID. The Engineering Day was designed to support the Department's commitment to support educational outreach, specifically science, technology, engineering and math (STEM) disciplines.
   The hands-on projects blended educational lessons with the fun of building catapults to launch skittle candies, and water filtration systems to clean water to parts per million levels. And, as important as the lessons students received, it also brought families together.
   "One of our goals is to create a family friendly atmosphere that complements the fun side of learning," said Museum of Idaho Executive Director Karen Baker. "It was fun to watch the kids and equally encouraging seeing students and parents enthusiastically involved in the projects. From the museum's perspective, this is the type of activity that contributes to the education of area students and the appreciation for STEM-based education."