You are here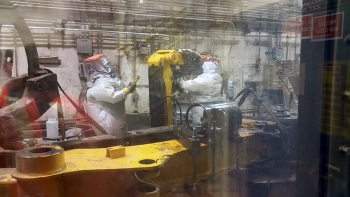 Technicians install one of two new robotic arms in the Treatment Facility boxlines.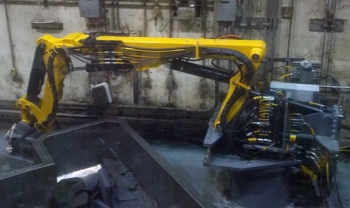 A newly installed robotic arm is at work.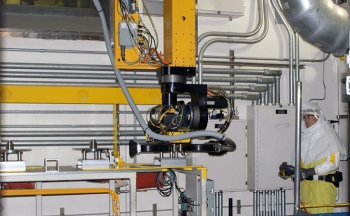 A maintenance technician works with the new box-opening gantry robot system.
IDAHO FALLS, Idaho – An EM infrastructure investment has further improved safety and increased productivity at the Idaho Site's transuranic waste treatment facility. 
   Crews at EM's Advanced Mixed Waste Treatment Project (AMWTP) recently completed the $10 million infrastructure improvement project over 13 months.
   "The treatment facility is a genuinely unique structure within the complex, allowing the majority of transuranic waste treatment to be done safely and remotely," said Jack Zimmerman, Deputy Manager for the Idaho Cleanup Project at the DOE Idaho Operations Office. "By investing in this equipment, AMWTP will be able to complete its mission in Idaho." 
   Workers installed a new box-opening gantry robot system, replaced two robotic arms that outlived their design lives, and rebuilt a third robotic arm. Workers operate these systems remotely to avoid exposure to hazardous material.
   The robotic arms open and sort waste containers in two huge concrete and metal hot cells known as boxlines. The box-opening gantry robot system is a powerful radial saw mounted on a robotic arm that moves around the top of a box of waste and cuts off its lid.
   Crews updated the conveyor system that moves waste drums within the facility, and the robotic computer control system for the gantry robots and lidding machines. They added new components to the ventilation system.
   Completing the work required nearly 200 entries to the boxlines. Workers wore personal protective equipment, including supplied breathing airlines. They performed all work safely, with no personnel contamination events or injuries. 
   "The payoff from DOE's investment has been immediate and dramatic. We have significantly reduced the number of entries that employees have had to make in highly contaminated cells to repair the remotely-operated systems from four per week to none in the past three months, reducing worker risk and lowering our cost for personal protective equipment," Fluor Idaho Operations Manager Hoss Brown said. "In addition, that increase in reliability has contributed to a boxline processing production increase of more than 25 percent."