You are here
Researchers at Oak Ridge National Laboratory recently conducted a study that measured the effect of tire pressure on fuel economy at speeds ranging from 40 to 80 miles per hour. The figure below shows the results of a 2009 Toyota Corolla tested with all four tires at the recommended pressure (Black line), then at 75% of the recommended pressure (green line), and again at 50% of the recommended pressure (orange line). With all four tires at 75% of the recommended pressure, the fuel economy penalty remained fairly consistent at about 2-3% over the range of speeds. The fuel economy penalty for all four tires at 50% of the recommended pressure is more severe but the effect on fuel economy is greater at lower speeds. At 40 miles per hour, fuel economy with all four tires at 50% of their recommended pressure is about 10% lower but at 80 miles per hours it is only about 5% lower. It should be noted that underinflated tires not only waste fuel but also pose serious safety risks.
Fuel Economy by Speed for a Toyota Corolla under Various Tire Pressure Conditions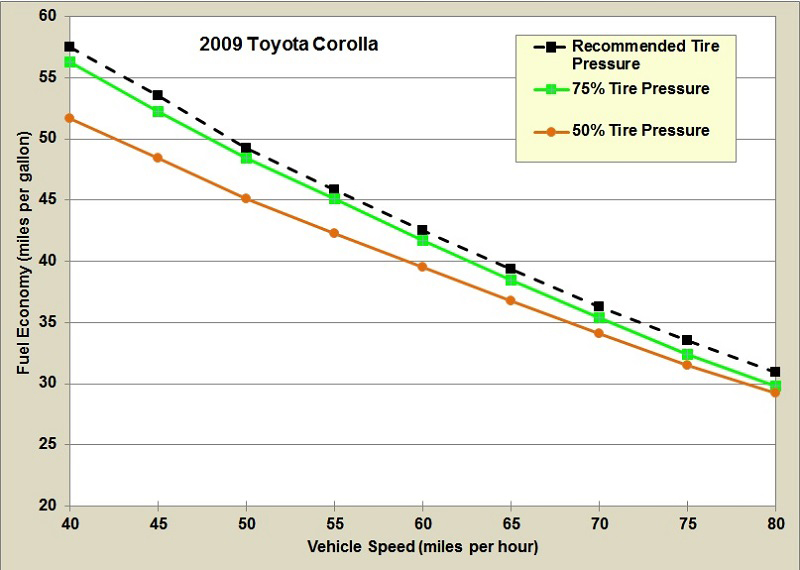 Supporting Information
Speed
(miles per hour)
Recommended Tire Pressure
75% Tire Pressure
50% Tire Pressure
Fuel Economy (miles per gallon)
40
57.5
56.3
51.7
45
53.5
52.2
48.4
50
49.2
48.4
45.1
55
45.8
45.1
42.3
60
42.5
41.7
39.5
65
39.4
38.5
36.8
70
36.3
35.4
34.1
75
33.5
32.4
31.5
80
30.9
29.8
29.2
Note: The vehicle tests consisted of a warm-up phase to a target oil temperature, followed by a 50 mph cruise for five minutes and then operating the vehicle at steady speeds from 40 mph to 80 mph in 5 mph increments, with each speed held for at least 5.5 minutes.For additional detail on the individual tests, see the source listed below.
Source: J., Huff, S., and West, B., "Fuel Economy and Emissions Effects of Low Tire Pressure, Open Windows, Roof Top and Hitch-Mounted Cargo, and Trailer," SAE International Journal of Passenger Cars -Mech. Syst. 7(2):2014, doi:10.4271/2014-01-1614.