You are here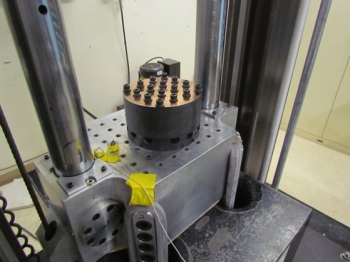 Through funding by the Energy Department, Sandia National Laboratories have refined a useful percussive hammer tool for harsh geothermal applications. Source: Sandia
In 2013, Sandia National Laboratories (SNL) successfully completed the development of a high-temperature drilling technology able to withstand the harsh conditions present in geothermal reservoirs. SNL developed and tested a high-temperature downhole motor that includes an indexing tool for use with commercially available percussive hammers. Conventional pneumatic down-the-hole-hammer drilling systems—widely used in the mining and oil and gas sectors—perform well in hard rock environments and are capable of removing a volume of rock with low energy input. As a result, SNL identified the percussive hammer as a candidate technology for efficiently and effectively drilling geothermal wells. Hammer technology can lower the cost of drilling geothermal wells and improve well construction capabilities, including directional drilling.
Generating downhole rotation of the hammer, or downhole torque, has long been a challenge in high-temperature geothermal environments. Downhole rotation allows the face of the hammer to rotate and strike new rock instead of continuously pulverizing the same regions of the well. At high temperatures, elastomers—common components of oil and gas drilling systems used to generate downhole torque—quickly fail to operate as designed. With this in mind, SNL designed components without any elastomeric materials, allowing efficient and continuous operation at 250°C. The vein motor and indexing tool that can be easily integrated with existing pneumatic hammer bits. 2013 saw the successful characterization of the system's performance, which was comparable to positive displacement motors commonly used in oil and gas drilling. The project included a first stage analytical design followed by prototype development, further improved with a series of laboratory tests and material refinements. In 2013, SNL successfully characterized the tool's performance, generating greater than 2000 lb/ft of torque at 300 pounds per square inch of pressure. A provisional patent has been filed for the tool's design, and SNL has entered negotiations with a commercial partner to license this technology.
The Office of Energy Efficiency and Renewable Energy (EERE) success stories highlight the positive impact of its work with businesses, industry partners, universities, research labs, and other entities.