You are here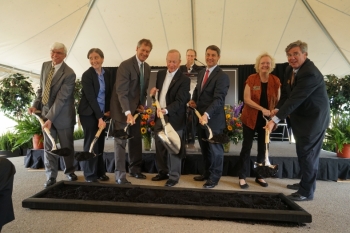 Left: Gary Bertoline, Dean of Purdue Polytechnic Institute; Kelly Visconti, Technology Manager for the U.S. Department of Energy Advanced Manufacturing Office; John Dennis, Mayor of West Lafayette; Mitch Daniels, President of Purdue University; R. Byron Pipes, John Leighton Bray Distinguished Professor of Engineering; Victor Smith, Indiana Secretary of Commerce; Leah Jamieson, John A. Edwardson Dean of Engineering; and Dan Hasler, President of the Purdue Research Foundation
The Institute for Advanced Composites Manufacturing Innovation (IACMI) that was officially launched by the Energy Department's Assistant Secretary for Energy Efficiency and Renewable Energy Dr. David Danielson, has met another successful groundbreaking. One of the flagship research facilities of the IACMI partnership, the Indiana Manufacturing Institute at Purdue University, broke ground this past June.
The 62,000 sq. ft. research facility is based in West Lafayette, Indiana, and will expand research on composite materials manufacturing such as carbon-fiber polymer composites.  The facility will be used for research and education by Purdue faculty, engineers, and graduate students and space will be available for lease by industry. The IACMI Innovative Design and Simulation Technology Area, which will feature a manufacturing simulation platform known as the Composites Virtual Factory HUB (cvfHUB) will be housed at the facility as well.  The cvfHub will be used to simulate almost every element of the composites manufacturing process and offer engineers and researchers the ability to experiment with their approach and collect data before manufacturers invest in physical facilities.  
The result of the work taking place at the Indiana Manufacturing Institute may accelerate manufacturing of advanced composites for a multitude of purposes including wind turbines, vehicles, and compressed gas storage tanks further boosting America's competitiveness in manufacturing clean energy products. This follow on fundingfor this new facility a great example of how the IACMI can catalyze the manufacturing ecosystem and support advanced composites R&D to drive manufacturing technologies forward.
Learn more about IACMI and its goal to drive down the cost composite materials and support US manufacturing competitiveness. The Advanced Manufacturing Office (AMO) partners with industry, small business, universities, and other stakeholders to identify and invest in emerging technologies with the potential to create high-quality domestic manufacturing jobs and enhance the global competitiveness of the United States.
The Office of Energy Efficiency and Renewable Energy (EERE) success stories highlight the positive impact of its work with businesses, industry partners, universities, research labs, and other entities.