You are here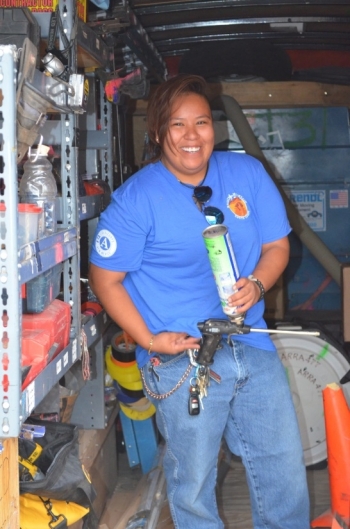 The Rocky Mountain Youth Corps' Jasmine Ramero found a new career in weatherization with help from the Energy Department.| Photo courtesy of Rocky Mountain Youth Corps.
Jasmine Ramero, a member of the Rocky Mountain Youth Corps (RMYC), functioning on behalf of the Energy Department's Weatherization Assistance Program (WAP), is a top performer in her field. In February (2015) she was honored by the National Corps Network as Corpsmember of the Year. Two years ago, Ramero did not know anything about weatherization, but now she is on the path towards making history: becoming the first female weatherization quality control inspector/auditor in the State of New Mexico.
Born and raised in Taos Pueblo, New Mexico, Ramero began training for her career in weatherization in October 2013, at the New Mexico EnergySmart Academy, located at Santa Fe Community College. She honed her skills at the weatherization training center, earning certifications in retrofit installation, lead-safe practices, OSHA 10, First Aid, and CPR. There, the Academy prepared her for a role as an Assistant Crew Supervisor in her field.
For nearly 40 years, WAP has been changing lives by providing workforce training and jobs to Americans like Ramero and performing weatherization services for low-income families.  Whole-house retrofits have been implemented in hundreds of thousands of homes across all climate zones and housing types, offering families reprieve from hefty energy bills.
The Office of Energy Efficiency and Renewable Energy (EERE) success stories highlight the positive impact of its work with businesses, industry partners, universities, research labs, and other entities.