The Geothermal Technologies Office's (GTO) Frontier Observatory for Research in Geothermal Energy (FORGE) initiative is a dedicated site where scientists and engineers can develop, test, and accelerate breakthroughs in enhanced geothermal systems (EGS) technologies and techniques. The FORGE effort includes robust instrumentation, data collection, and data dissemination to capture and share data and activities in real time. The site's cutting-edge research, coupled with an innovative collaboration and management platform, helps scientists identify a replicable, commercial pathway to EGS.
FORGE R&D activities focus on strengthening our understanding of the key mechanisms controlling EGS success—specifically, how to initiate and sustain fracture networks in basement rock formations. This critical knowledge will be used to design and test a methodology for developing large-scale, economically sustainable heat exchange systems, paving the way for a rigorous and reproducible approach that will reduce industry development risk and facilitate EGS commercialization. The R&D activities include innovative drilling techniques, reservoir stimulation techniques, well connectivity and flow-testing efforts, and other related activities.
Throughout the life of the FORGE initiative, the R&D priorities will shift to accommodate technology advancements, allowing FORGE to be a dynamic, flexible effort adjusting to the latest challenges in the energy frontier.
PARTICIPATE!
During Phase 3 the FORGE initiative will release annual R&D solicitations, open to the public and subject to a rigorous, transparent merit review process in line with U.S. Department of Energy (DOE) standards. Each solicitation will result in approximately 10 to 20 subcontracts (subject to appropriations) for research and technology testing in the following EGS lifecycle categories:
Reservoir characterization (coupled imaging, drilling for interrogation and monitoring, high-temperature tools and sensors)
Reservoir creation (formation access, fracture characterization, zonal isolation, stimulation technologies)
Reservoir sustainability (long-term testing, monitoring, and operational feedback)
All entities (e.g., industry, universities, Federally Funded Research and Development Centers, non-profit organizations, government agencies) will be eligible to submit proposals to these solicitations as individual entities or teams.
FORGE NEWS & HIGHLIGHTS
Learn more about projects, publications, and other initiative highlights.
FORGE FOA 2020-1. Applications are now closed, and projects are underway. On February 24, 2021, DOE announced that the University of Utah selected 17 projects to receive up to $49 million in funding for cutting-edge, domestic, and carbon-free geothermal projects with potential to supply power to homes in the United States. For information on these 17 projects, visit the FORGE R&D webpage. For further details on the funding opportunity announced on April 20, 2020, visit the solicitation website. 
CONTACT INFORMATION
For questions about current FORGE activity, please see FORGE Contact Information or email doe.geothermal@ee.doe.gov.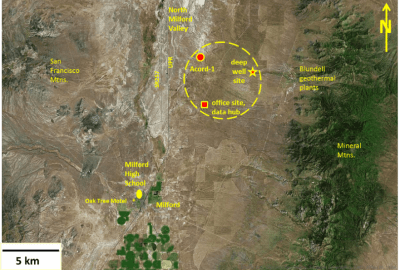 FORGE Phases and Sites
The Frontier Observatory for Research in Geothermal Energy (FORGE) initiative contains three phases. The first two phases focused on selecting a site and operations team.
Learn more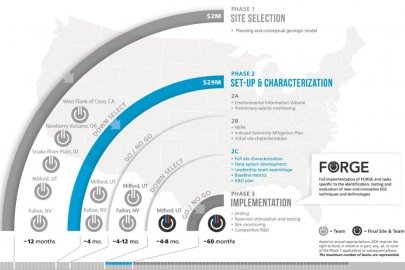 FORGE Timeline
This timeline captures the significant events of the FORGE projects since the funding opportunity announcement in 2014.
Learn more
Technical Resources & Reports
Frontier Observatory for Research In Geothermal Energy: A Roadmap, 2019: The roadmap, funded by GTO and developed by the IDA Science and Technology Policy Institute, provides technical research recommendations to GTO, FORGE's Science and Technology Analysis Team (STAT), and the broader research community for the 5 years of FORGE's operation. While the roadmap's components are focused primarily on FORGE, the roadmap activities also contribute to the knowledge and understanding of how to build future large-scale, economically sustainable EGS systems beyond the FORGE site.
FORGE Phase Infographic, 2015: This infographic shows the phases of the FORGE initiative and related activities. 
FORGE Informational Flyer, 2015: This flyer provides additional details on FORGE, an EGS laboratory where the subsurface scientific community can test and improve new technologies and techniques for creating and sustaining next-generation geothermal systems.