You are here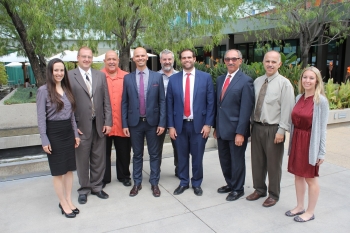 SoCal Edge First Movers and Advisory Board with representatives from the City of Los Angeles, the Los Angeles Department of Water and Power, Kilroy Realty, UCLA, Hudson Pacific Properties, Jones Lang LaSalle, Morlin Asset Management, Los Angeles Green Building Council, Westin Bonaventure Hotel and Suites, Southern California Edison, ABM, and RedCar Properties LTD.
By Monica Kanojia
Any time industry leaders and stakeholders are brought together great strides can be made toward accomplishing mutual goals. The Los Angeles Better Buildings Challenge (LABBC) provided a platform to do just that during its Third Annual Building Technology Showcase, where leading technology companies gave fast-pitch presentations on the best energy and water solutions available in the marketplace to the LABBC's network of property owners, property managers, and contractors.
The showcase, co-hosted by LACI, the Los Angeles Area Chamber of Commerce, the City of Los Angeles, and the Los Angeles Department of Water and Power, represented a breadth of technology experts with presentations ranging from water recycling and water metering to building controls to cooling tower solutions. Each expert presented their technology's features and applications as well as average energy and cost savings, ROIs, rebates, and successful case studies. Networking after the presentations led to a number of productive connections.
"Thanks to the LABBC and their Building Technology Showcase, Deco Lighting was able to connect with the City of LA's General Services Department (GSD) to discuss potential projects with the City's buildings," says Steve Schwartz, vice-president of sales and marketing at Deco Lighting.
The event also served as a platform for the launch of LABBC's SoCal Edge initiative, aimed at accelerating investments in next-generation building technologies in Los Angeles area buildings. Funded through an Energy Department funding opportunity, SoCal Edge fosters the critical connection between end users, technology providers, entrepreneurs and start-ups to identify market-ready, best-in-class solutions and match them with property owners committed to innovation.
The lack of clarity surrounding the best opportunities to improve building performance is often a barrier to market uptake of energy efficient technology. SoCal Edge works to combat this by connecting property owners with technologies that have been tested, measured, and deployed in federal government buildings, and providing technical support throughout the entire process. 
What makes SoCal Edge different? It's an end-to-end model that reduces risk and provides support through all stages of execution.