You are here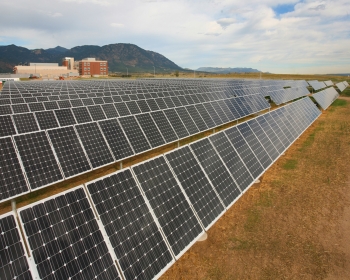 Fort Carson's first U.S. Green Building Council platinum-level Leadership in Energy and Environmental Design certified facility, the 4th Armored Brigade Combat Team Brigade and Battalion Headquarters, features a 482 kilowatt ground-mounted, tracking photovoltaic system. | U.S. Army photo
America is a world leader when it comes to tackling the energy challenges of tomorrow. As such, the federal government must set an example for the rest of the country to follow as we move toward cleaner, more efficient forms of energy.
Every year, the Energy Department's Federal Energy Management Program (FEMP) honors leaders in the federal government who have developed unique ways to conserve energy and improve water and vehicle fleet efficiency, which ultimately saves taxpayers money.
This year's Federal Energy and Water Management Award winners saved a total of 1.9 trillion British thermal units (Btu) of energy in fiscal year 2012.  That's equivalent to removing more than 27,000 cars from the road and slashing the average energy use of more than 20,000 households annually. In addition, these projects reduced water use by 399 million gallons and conserved 2.1 million gallons of fuel. The combined efforts resulted in an impressive $43 million in savings.
Workers from throughout the federal government were recognized for their energy leadership including those serving the U.S. Air Force, Army, Marine Corps, and Navy; the Departments of Agriculture, Energy, Homeland Security, Interior, and Veterans Affairs; and the General Services Administration. A few of the many innovative energy-savings projects that were implemented include:
Upgrading building systems, lighting, and materials
Installing solar and wind energy systems
Putting a biomass boiler into service
Installing ground-source heat pumps
Putting a greywater recovery system into service
Improving aviation fuel management efficiency
Congratulations to all of this year's winners, who have demonstrated the federal government is leading the way when it comes to securing a cleaner, more sustainable world for future generations.  For more information, check out FEMP's new interactive Awards webpage.