The Department of Energy's (DOE's) Building Technologies Office (BTO), within DOE's Office of Energy Efficiency and Renewable Energy, recently announced winners of its JUMP into STEM Grand Finale Event. Winners have been selected for paid summer internships at either Oak Ridge National Laboratory (ORNL) or the National Renewable Energy Laboratory (NREL). 
The student teams competing for JUMP into STEM summer internships at the labs presented highly innovative approaches to use data to influence homeowner decisions to optimize their energy use. The student competitors earned their JUMP into STEM internship awards where they will gain access to buildings industry related experts, research and innovation in an enhanced training environment at either NREL or ORNL.
Check out the winners of the 2019 JUMP into STEM competition:
Cade Lawson (Atlanta, Georgia)
Idea: Behavioral Interventions for Reducing Energy Consumption among Older Adults, Economics Major and Computational Data Analysis Minor, Georgia Institute of Technology
Sarah Tinsley (Atlanta, Georgia)
Idea: Home Energy Score Interactive Dashboard, Economics Major, Georgia Institute of Technology
Carl Woodard (Knoxville, Tennessee)
Idea: AutoStat: Automated Thermostat, Mechanical Engineering Major, University of Tennessee
To advance the science, technology, engineering, and math (STEM) fields, JUMP into STEM collaborates with university and college professors across the nation, from architecture, engineering, computer science, and other departments. The JUMP into STEM program includes online competitions, combined with on-campus engagement of students through design teams and technology research ideation.
JUMP into STEM hosted a Challenge Series in the fall of 2018 aimed at undergraduate and graduate university and college students studying architecture, engineering, computer science, or other buildings-related disciplines. Judges reviewed idea submissions and invited eight teams across the three challenges to compete at the Grand Finale Event, co-located with the Solar Decathlon Design Competition Weekend, on April 12-14, in Golden, Colorado.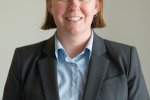 Mary Hubbard
Mary Hubbard is the technology-to-market manager within the Building Technologies Office's (BTO's) Emerging Technologies Program. In this position, she works across the office to lead BTO's Technology-to-Market Initiative.
more by this author