You are here
DOE ISSUES FUNDING OPPORTUNITY FOR BUILDING AMERICA INDUSTRY PARTNERSHIPS FOR HIGH PERFORMANCE HOUSING INNOVATION
The U.S. Department of Energy (DOE) is soliciting applications for the Building America Industry Partnerships for High Performance Housing Innovation Funding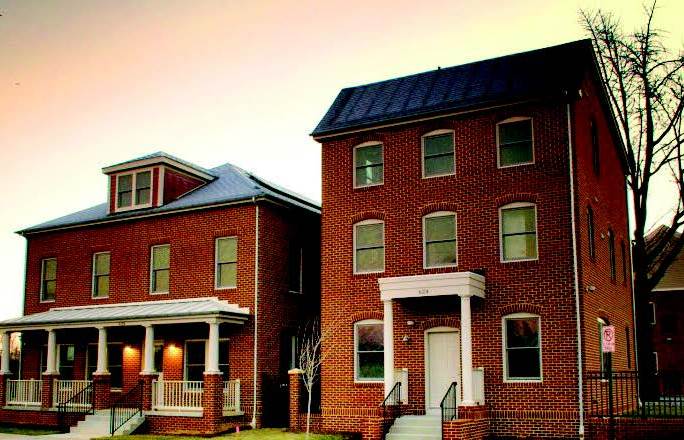 Opportunity Announcement (FOA) DE-FOA-0001117, which will award up to $4 million for research and development (R&D) projects that advance high-impact residential building efficiency technologies and practices. Concept papers are due December 12, 2014; the deadline for full applications is February 4, 2015.
This FOA funds applied R&D in real-world houses to demonstrate strategies that will spur the residential building market to adopt energy-saving measures that will enable 50% savings in new homes by 2025 (based on the 2009 IECC) and 40% energy savings in existing homes by 2030. Project teams will focus on developing and implementing high performance solutions to three core technical challenges: building envelope assemblies and systems; optimal comfort systems for heating, cooling, air distribution, and humidity control; and ventilation systems and indoor air quality strategies.
DOE will conduct an informational webinar for interested applicants on November 17, 2014, 3:00-4:00 PM EST. To participate, please register soon; space is limited!
RACE TO ZERO STUDENT DESIGN COMPETITION: APPLY BY DECEMBER 15
Building America recognizes that the education of future design/construction industry professionals in solid building science principles is critical to widespread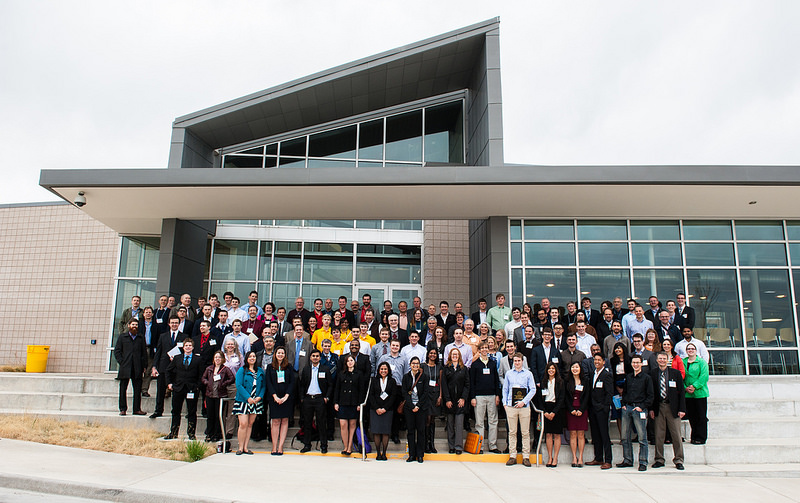 development of high performance homes that are energy efficient, healthy, and durable.
A key focus of this effort is the DOE Race to Zero Student Design Competition, where university students design affordable homes that are zero energy ready—homes so efficient that all or most of the remaining energy use can be offset with renewable sources. The second annual competition will be held on April 18-20, 2015; register by December 15, 2014 to be part of this exciting event! Learn about requirements, and view the 2014 results.
Thinking about joining the 2015 Race to Zero? Attend a live webinar on November 18, 2014, to learn about tried and true strategies to design technically sound, marketable, cost-effective zero energy ready homes.
BUILDING AMERICA NOVEMBER 18 WEBINAR: HIGH PERFORMANCE SPACE CONDITIONING SYSTEMS, PART II
Building America brings you free monthly webinars highlighting the latest advances in residential building technologies and practices, presented by Building America research team experts. The November webinar continues our series on strategies to improve the performance of HVAC systems for low-load new homes and home performance retrofits. Register now.
Date/Time: November 18, 2014; 3:00-4:30 PM EST
Description: The webinar continues our series on strategies to improve the performance of HVAC systems for low-load homes and home performance retrofits. Presenters and specific topics for this webinar will be:
William Zoeller, Consortium for Advanced Residential Retrofit, presenting Design Options for Locating Ducts within Conditioned Space. Bill will provide an overview of several design options for ducts—in unvented attics, dropped soffits, modified trusses and floor trusses, sealed crawlspaces, and buried and encapsulated.
Dave Mallay, Partnership for Home Innovation, presenting Compact Buried Ducts. Dave will discuss buried ducts and design considerations, the compact duct concept, results of field testing and monitoring, and alternative solutions for air sealing and insulating ducts.
Jordan Dentz, Advanced Residential Integrated Energy Solutions, and Francis Conlin, High Performance Building Solutions, Inc., presenting Air Distribution Retrofit Strategies for Affordable Housing. They will discuss a project with two retrofit duct sealing techniques—manually applied sealants and injecting a spray sealant—that were implemented in several low-rise multi-unit buildings.
DOE'S NEWEST SOLUTION CENTER SHARES PROVEN STRATEGIES FOR ENERGY EFFICIENCY PROGRAMS
You know about the Building America Solution Center, your resource for fast, free, and expert building science and energy efficiency information based on Building America research results. Now, there's a new DOE Better Buildings Residential Program Solution Center for program administrators and home performance professionals.
During the past 4 years, communities across the country have worked with DOE's Better Buildings Neighborhood Program to make energy efficiency more accessible to homeowners. Lessons learned from that effort are now captured in this new online tool, which highlights successful strategies and solutions used by residential energy efficiency programs across the country. Here you will find examples of successful and innovative home energy efficiency programs, guidance for setting up an effective program, evaluation tools, and successful business models. Learn more.
BEOPT VERSION 2.3: SIMPLER COST ENTRY, FASTER PERFORMANCE
The new BEopt™ Version 2.3 is now available! BEopt evaluates residential building designs and identifies cost-optimal efficiency packages at various levels of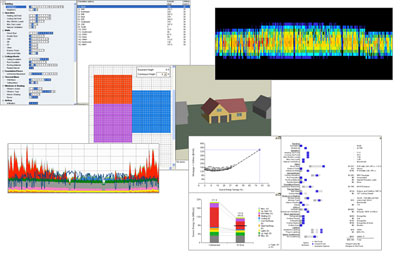 whole-house energy savings along the path to zero net energy. BEopt can be used to analyze new construction and retrofits by evaluating single building designs, parametric sweeps, and cost-based optimizations.
BEopt 2.3 offers new and improved features such as simplified cost framework, enhanced DView hourly output visualization, detailed heating and cooling outputs, new options and technologies, user-specified EnergyPlus time steps, and software performance improvements. See details about the new features. Visit the BEopt website to download Version 2.3.
THIS MONTH'S RESIDENTIAL SUCCESSES: GEARING UP FOR WINTER
This month's residential successes showcase an example of a Building America-developed solution for improving building envelope efficiency and guidelines for safe installation and operation of combustion appliances.
Technology Solutions: Project Overcoat: Airtightness Strategies and Impacts for 1½-Story Homes, Minneapolis, Minnesota
In this project, the NorthernSTAR team studied the effectiveness of the External Thermal Moisture Management System as a solution for improving airtightness in a roof-only application and compared the results to more than 250 roof-only, interior-applied energy retrofits on 1½-story homes.
Technology Solutions: Combustion Safety for Appliances Using Indoor Air
Here, the Partnership for Advanced Residential Retrofit team provides guidance on how to assess and carry out the combustion safety procedures for appliances and heating equipment that uses indoor air for combustion in low-rise residential buildings.
Visit the All Climates Web page to see energy-saving solutions for new and existing homes in four categories: building envelope, low-load HVAC, components for water heating and space conditioning, and indoor air quality.
ZERO ENERGY READY HOME: MARK YOUR CALENDAR FOR DECEMBER TRAINING
Plan to attend this Zero Energy Ready Home technical training webinar in December:
ZERH Webinar: Sales and Value Recognition of Zero Energy Ready Homes
Date/Time: December 18, 2014, 12:00-1:15 PM EST
Description: Net zero energy properties have unique, high performance features that should be prominently presented during the listing and sales process. However, these features also present issues for appraisers and lenders: lenders are challenged to find competent appraisers, who are challenged with limited net zero energy sales data. This webinar will explain how to overcome these hurdles and how to market these homes most effectively.
BUILDING AMERICA IN THE NEWS
Here are recent Building America-related articles in popular trade publications:
Subscribers to Energy Design Update can access this recent article: Payback and Performance, New Low-E Storm Windows Are Hitting the Mark.
NEW PUBLICATIONS FROM BUILDING AMERICA
The Building America Publications Library offers an extensive collection of technical reports, measure guidelines, case studies, and other resources to help you boost energy efficiency in new and existing homes. On the library page, you can subscribe to the RSS feed that delivers reports as they are published. Also, the Building America Solution Center links you to expert building science and energy efficiency information based on Building America research results. Here are samples of our most recent publications:
Measure Guideline: Supplemental Dehumidification in Warm-Humid Climates
This guideline describes the need and applied solutions for supplemental dehumidification in warm-humid climates, especially in energy-efficient homes where the sensible cooling load has been dramatically reduced.
Challenges of Achieving 2012 IECC Air Sealing Requirements in Multifamily Dwellings
Previous versions of the IECC have included provisions to improve the air tightness of dwellings. Now, for the first time, the 2012 IECC mandates compliance verification through blower door testing. Simply completing the Air Barrier and Insulation Installation checklist through visual inspection is no longer sufficient; the 2012 IECC mandates a significantly stricter air sealing requirement. This report summarizes research to assess the feasibility of meeting the 2012 IECC air leakage requirements in three multifamily buildings.
Taking the Challenge at Singer Village — A Cold Climate Zero Energy Ready Home
After progressively incorporating ENERGY STAR® for Homes Versions 1, 2, and 3 into its standard practices over the years, this builder, Brookside Development, was seeking to build an even more sustainable product that would further increase energy efficiency and address indoor air quality, water conservation, renewable-ready, and resiliency. These objectives align with the framework of the DOE Zero Energy Ready Home (formerly Challenge Home) program, which builds upon the comprehensive building science requirements of ENERGY STAR for Homes Version 3, along with proven Building America innovations and best practices. The Consortium for Advanced Residential Buildings team partnered with Brookside Development on the design optimization and construction of the first home in a small development of seven planned new homes being built on the old Singer Estate in Derby, Connecticut.
Integrated and Optimized Energy-Efficient Construction Package for a Community of Production Homes in the Mixed-Humid Climate
This project analyzes how a set of advanced technologies can be integrated into a durable and energy-efficient house in the mixed-humid climate while remaining affordable to homeowners. Home Innovation Research Labs partnered with production builder Nexus EnergyHomes, which plans to adopt the successful components of the energy solution package for all 55 homes in the community. The technical solutions documented in this report form the cornerstone of the builder's entire business model based on delivering high performance production homes as a standard product offering to all price segments of the residential market.
Additional reports published recently are:
New Whole-House Solutions Case Study: New Town Builders' Power of Zero Energy Center, Denver, Colorado
Evaluation of the Performance of Houses With and Without Supplemental Dehumidification in a Hot-Humid Climate
Technology Solutions Case Study: Initial and Long-Term Movement of Cladding Installed Over Exterior Rigid Insulation
Technology Solutions Case Study: Guidance on Taped Insulating Sheathing Drainage Planes
New Whole-House Solutions Case Study: Evaluating Through-Wall Air Transfer Fans, Pittsburgh, Pennsylvania
Visit the Building America Publications Library to access the entire catalog of publications to help improve the efficiency of new and existing homes.
Want to learn more about Building America or help us spread the word about the program? View the video, "What is Building America?" on DOE's YouTube channel to learn about how Building America aims to bridge the gap between homes with high energy costs and homes that are healthy, durable, and energy efficient.
Please forward this announcement to colleagues who may be interested in subscribing to future updates about Building America.