You are here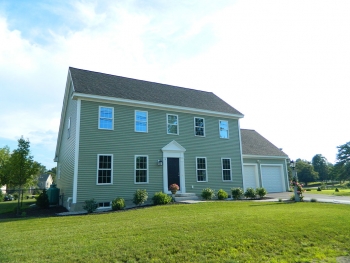 Building Science Corporation worked with Transformations, Inc., on a subdivision of super-insulated homes that earned HERS scores of 35 before adding solar PV.
Top Innovation Spotlight: Zero Energy Ready Single-Family Homes
Building America research focuses on constructing high performance homes that are also zero energy ready (producing as much energy as the home uses)—a goal embodied in the U.S. Department of Energy's (DOE) home certification program, Zero Energy Ready Home (formerly Challenge Home). In 2013, several Building America research teams garnered Top Innovation honors for their collaborations with builders across the country to construct zero energy ready homes.
In the U.S. Northeast, the Consortium for Advanced Residential Buildings and Preferred Builders, Inc., developed "The Performance House," which features high performance construction best practices resulting in 30% source annual energy savings and a Home Energy Rating System score of 43 before photovoltaics (PV). Building Science Corporation partnered with Transformation, Inc. of Devens, Massachusetts, on zero energy ready production and custom homes that include exceptional insulation, air sealing, and minisplit heat pumps. The Partnership for Home Innovation team collaborated with Nexus EnergyHomes on a community of zero energy house designs in Maryland that includes a standard package of structurally insulated panel walls, geothermal heat pumps, solar PV, and an energy management system.
Working with LaMirada Homes in Arizona and California, the Alliance for Residential Building Innovation evaluated air-to-water heat pump systems, an energy-efficient space conditioning solution designed to cost effectively and efficiently deliver comfort in homes. The Building America Partnership for Improved Residential Construction helped Tommy Williams Homes adopt a zero energy ready package as a standard for its homes, enabling the builder to boost business in the hot-humid climate.
Learn about all the Building America Top Innovations.
Provide Feedback by July 11 on Effective Building Science Power Words
Building America and the DOE Zero Energy Ready Home program invite you to participate in developing the Building Science Translator, a glossary of "power words" that can more clearly and effectively reinforce the value message of high performance homes. Please review this historic document and submit feedback by July 11, 2014. Following the review process, DOE will complete the Building Science Translator and introduce an exciting Web tool for using the new terminology.
July 16 Building America Webinar: Optimizing Space Conditioning for Multifamily Buildings
Building America brings you free monthly webinars highlighting the latest advances in residential building technologies and practices, presented by Building America research team experts. Please join us for the July webinar:
Retrofitting Central Space Conditioning Strategies for Multifamily Buildings
Date/Time: July 16, 2014; 3:00 PM EDT
Description: The webinar will focus on improving the performance of central space conditioning systems in multifamily buildings. Presenters will discuss hydronic heating strategies and the evaluation of thermostatically controlled radiator valves (TRVs).
Presenters include:
Jordan Dentz and Hugh Henderson, Advanced Residential Integrated Energy Solutions (ARIES), will discuss the effectiveness of various control strategies to improve hydronic space heating performance in three low-rise multifamily buildings in Cambridge, Massachusetts. Jordan will also review past research on TRV effectiveness, summarize the results of an industry survey on the use of TRVs, and present the results of a new field test designed to evaluate the effectiveness of new and old TRVs on a steam-heated building with convectors.
Peter Ludwig and Russell Ruch, Elevate Energy (formerly CNT Energy), will focus on two studies conducted to identify best practices, costs, and savings associated with optimizing steam and hydronic systems through increased mainline air venting, replacing radiator vents, improving circulation pump efficiency, and upgrading boiler control systems.
Reserve your seat now! Keep current on upcoming Building America webinars by visiting the Meetings Web page.
Serving a U.S. Veteran: First Zero Energy Ready Deep Retrofit Home
Green Extreme Homes in Garland, Texas, completed the country's first affordable zero energy ready deep retrofit for a U.S. military veteran. The project team installed new insulation, HVAC system, ENERGY STAR appliances, and windows. As a result, the utility bills for this high performance house will be less than $2/day. View the
video
.
Residential Successes: Proud Green Home and Multifamily Retrofit
This month's Residential Successes highlight a new zero energy home any builder would be proud of and a retrofit project that describes a package of high efficiency measures for a multifamily apartment building.
Imery Group, Proud Green Home: The first certified U.S. Department of Energy Zero Energy Ready Home in Georgia features advanced framing, spray-foamed walls and attic with rigid foam and coated oriented strand board, minisplit heat pump, solar water heating, and PV in a sustainable community.
Evaluation of a Cold Climate Multifamily Retrofit: A 37-unit apartment complex underwent multiple energy retrofit measures—attic and wall insulation, low-e windows, and energy-efficient appliances—to comply with the Boulder SmartRegs Ordinance, a mandate that requires all rental properties to meet certain energy efficiency standards by 2018.
Find case studies in your area on the Climate-Specific Guidance pages of the Building America website.
Zero Energy Ready Online Checklist Now Available at the Solution Center
The U.S. Department of Energy's Zero Energy Ready Home National Program Requirements are now available as an interactive checklist in the Building America Solution Center. Here, users can access three accordion-style categories of requirements that match the tables (Exhibits 1, 2, and 3) in the requirements document. The online checklist allows users to drill down to guides full of how-to information for implementing each requirement, including a scope of work, description of the technology or construction technique, step-by-step installation instructions, code compliance and climate-specific information, photos, computer-aided design drawings, case studies, videos, and references. The Solution Center is an ever-expanding technical resource for builders and installers. Although not all measures are populated at this time, new content is continually being added; feedback is encouraged.
Mark Your Calendars: 2014 Housing Innovation Awards on September 23, 2014
The DOE Housing Innovation Awards recognize the very best in innovation on the path to zero energy ready homes from a number of DOE residential building programs: DOE Zero Energy Ready Home, Home Performance with ENERGY STAR®, and Building America Top Innovations. Winners of the Home Builder Awards (Custom Builder, Production Builder, and Affordable Home Builder) will be announced at the Housing Innovations Award ceremony on September 23, 2014, at the Energy & Environmental Building Alliance's Excellence in Building Conference in St. Louis, Missouri.
Zero Energy Ready Home Technical Webinars and Trainings
The Zero Energy Ready Home trainings are on summer break, but will resume in September and continue through 2014–2015. This 3.5-hour training provides builders with a comprehensive review of zero energy ready home construction, including the business case, detailed specifications, and opportunities to be recognized as an industry leader. Watch the Events calendar for upcoming trainings.
New Publications From Building America
The Building America Publications Library offers an extensive collection of technical reports, measure guidelines, case studies, and other resources to help you boost energy efficiency in new and existing homes. On the library page, you can subscribe to the RSS feed that delivers reports as they are published. Also, the Building America Solution Center links you to expert building science and energy efficiency information based on Building America research results. Here are samples of our most recent publications:
Energy Evaluation of a New Construction Pilot Community: Fresno, California
Builder-partner Wathen-Castanos Hybrid Homes developed a new construction pilot community based on a single occupied test house that was designed to achieve greater than 30% energy savings. Builders face several key problems when implementing a whole-house systems integrated measures package from a single test house into multiple houses. This report addresses factors of implementation and scalability at the community scale and proposes methodologies by which community-scale energy evaluations can be performed based on results at the occupied test house level. In this project, Building America research team IBACOS analyzed the energy performance of five houses, comparing utility bill readings to projected energy consumption.
Public Housing: A Tailored Approach to Energy Retrofits
More than 1 million HUD-supported public housing units provide rental housing for eligible low-income families across the country. A survey of 100 public housing authorities (PHAs) across the country indicated that there is strong interest in developing low-cost solutions that improve energy efficiency and can be seamlessly included in the refurbishment process. Further, PHAs have incentives (both internal and external) to reduce utility bills. In this study, Building America ARIES team worked with two PHAs to develop packages of energy efficiency retrofit measures the PHAs can cost-effectively implement when units are refurbished between occupancies. The energy efficiency turnover protocols emphasized air infiltration reduction, duct sealing, and measures that improve equipment efficiency; total source energy consumption savings was estimated at 6%–10% with a simple payback of 1.7–2.2 years.
Performance of a Hot-Dry Climate Whole-House Retrofit
This Stockton, California, house retrofit is representative of a deep retrofit option of the scaled home energy upgrade packages offered to targeted neighborhoods under the pilot Large-Scale Retrofit Program administered by the Building America ARBI team. Deep retrofit packages expand on the standard package by adding HVAC, water heater and window upgrades to the ducting, attic and floor insulation, domestic hot water insulation, envelope sealing, and lighting and ventilation upgrades. Site energy savings with the deep retrofit were 23% higher than the pre-retrofit case, and 15% higher than the savings estimated for the standard retrofit package.
Additional reports published recently are:
West Village Student Housing Phase I: Apartment Monitoring and Evaluation
Simplified Space Conditioning in Low-Load Homes: Results from Pittsburgh, Pennsylvania, New Construction Unoccupied Test House
Evaluation of Missed Energy Saving Opportunity Based on Illinois Home Performance Program Field Data: Homeowner Selected Upgrades Versus Cost-Optimized Solutions
Visit the Building America Publications Library to access the entire catalog of publications to help improve the efficiency of new and existing homes.
Want to learn more about Building America or help us spread the word about the program? View the new video, "What is Building America?" on DOE's YouTube channel to learn about how Building America aims to bridge the gap between homes with high energy costs and homes that are healthy, durable, and energy efficient.
Please forward this announcement to colleagues who may be interested in subscribing to future updates about Building America.