You are here
Conway Street Deep Energy Retrofit: Transforming a School into High-Performance Apartments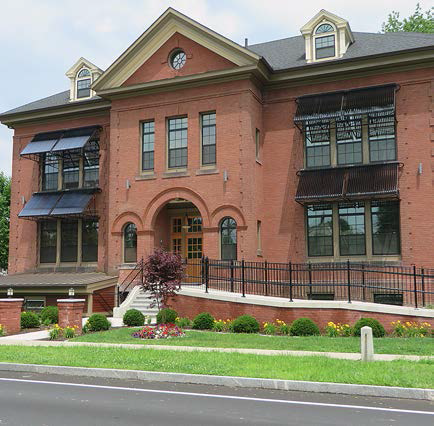 A historic school building in Greenfield, Massachusetts, is carrying on the tradition of education—this time as an apartment building that instills in residents the benefits of high-performance homes. With the help of the U.S. Department of Energy's (DOE's) Building America team
Consortium for Advanced Residential Buildings (CARB)
, Olive Street Development transformed a 100-year-old school into 12 high-end apartments with advanced features that approach net zero energy performance. Although single-family detached homes account for 63% of households (
EIA 2009
), multifamily homes account for a very large (and growing) fraction of that remaining housing stock. CARB has been evaluating strategies and technologies that can dramatically improve energy performance in multifamily buildings.
To create an excellent thermal envelope, the developer insulated the walls (R-25 to R-30) and roof (R-50) and installed triple-pane windows. Outside, solar thermal collectors provide water heating and a 30-kW photovoltaic (PV) system delivers most of the building's electricity needs. Ductless heat pumps provide most of the heating and cooling. The advanced energy features so appealed to potential residents that all the apartments were rented before they were completed.
With all these features, the developer was able to achieve Home Energy Rating System indices of 10–20 for the apartments and 72% source energy savings (50% not including PV). This translates to an annualized energy-related cost savings of roughly $585 per apartment over a comparable code-minimum built apartment.
The CARB team monitored the energy use and found that over the first year occupied, the average apartment consumed 3,332 kWh (not including hot water)—much lower than model predictions. The PV system provided 73% of these electricity loads and met all the building's common meter loads, and the solar thermal system provided 49% of the water heating loads. Read more about the Conway Street project.
Building America August 26 Webinar: Ventilation Strategies for High-Performance Homes, Part I—Application-Specific Ventilation
Join us for a free webinar to discuss what makes high-performance homes different from a ventilation perspective and how they might need to be treated differently than traditional construction. Topics will include combustion safety, indoor and outdoor key pollutants, pressurization versus depressurization, filtration, and installation/durability/maintenance issues. Specific guidance will be given for recommended systems based on climate, single versus multifamily, envelope tightness, and central forced-air heating/cooling. The webinar will conclude with a look to the future of high-performance ventilation systems. Our presenter will be Iain Walker from Lawrence Berkeley National Laboratory (LBNL). Register now.
Visit the Meetings page to stay current about upcoming webinars and view recordings of past webinars.
Building America Solution Center: How-To Videos Expand Knowledge of High-Performance Homes
The Building America Solution Center provides builders, contractors, code officials, and homeowners with best practice guidance for home construction and renovation based on research conducted by the Building America program and research teams. The Solution Center now hosts more than 80 how-to videos to help users learn about high-performance construction. View videos on how to correctly flash doors and windows, test duct leakage, construct a home with double-wall framing, and many other topics. The Solution Center also features downloadable computer-aided design files; a gallery of photos, diagrams, and right-and-wrong images that are handy for training; and nearly 200 illustrated interactive guides with step-by-step instructions, code-compliance details, and climate-specific information. These guides are accessible through several site navigation tools including interactive versions of the compliance checklists for ENERGY STAR Certified Homes, the U.S. Environmental Agency's Indoor airPLUS, and DOE's Zero Energy Ready Homes program. The video collection was assembled for Building America by DOE research partner Building Media, Inc. Check out the new videos in the Building America Solution Center!
Who Is Building the Best-Performing Homes in the Country? Find Out with DOE's Tour of Zero
Are you ready for a home that lives, works, and lasts better? With DOE's new Tour of Zero website tool, homebuyers across the country can find out where the home of the future is available today. This resource offers visual tours of award-winning homes by builders that participate in DOE's Zero Energy Ready Home program. These homes meet the strict high-performance requirements of the program including superior insulation, air sealing, and construction quality; ultra-efficient heating and cooling systems; superior lighting and appliances; and a host of indoor air quality details to ensure clean healthy air, durable construction, and quiet comfort. Many of the homes perform at true net zero, meaning they produce as much power in a year as they consume, thanks to highly efficient construction and rooftop PV panels. Some of the homes are efficient enough to power the house and an electric car for zero utility bills and zero gas bills. Visit the Tour of Zero to view photos, videos, and floorplans; compare performance data; and read case studies and testimonials of current lucky homeowners. Also, visit the Zero Energy Ready Home partner locator to meet the builders of these extraordinary homes.
Notice of Intent To Seek Nominations for the Central Air Conditioner and Heat Pump Working Group
DOE has announced its intention to establish a rulemaking working group under the Appliance Standards and Rulemaking Federal Advisory Committee in accordance with the Federal Advisory Committee Act and the Negotiated Rulemaking Act. The purpose of this working group is to negotiate proposed amended energy conservation standards for central air conditioners and heat pumps and provide recommendations to DOE about aspects of the proposed test procedure. The working group will consist of representatives of parties that have a defined stake in the outcome of the proposed standards and amended test procedure and will consult with a range of experts on technical issues. Interested parties should submit a cover letter and resume to asrac@ee.doe.gov.
Learn more about this effort and plan to attend a public webinar on August 26, 2015, from 9 a.m. to 4 p.m. EDT.
Building America Sessions and Housing Innovation Awards at EEBA Excellence in Building Conference & Expo
You still have time to register to attend the 2015 Energy & Environmental Building Alliance (EEBA) Excellence in Building Conference & Expo on October 6–8, 2015, in Denver, Colorado! You can enjoy more than 50 educational sessions that will cover every facet of building science, including Building America and DOE Zero Energy Ready Home tracks, along with an exhibit hall that features the latest in home performance products and services. View the conference program.
While at the EEBA event, plan to attend DOE's Housing Innovations Awards on October 6, which will recognize leading builders on the path to zero energy ready homes from DOE residential building programs. Winners of the Home Builder Awards (Custom Builder, Production Builder, and Affordable Home Builder) will be announced during the awards ceremony, which will be held at the EEBA plenary session on October 6, 2015, from 4:30–5:30 p.m. A poster session will follow the awards from 5:30–7:30 p.m.
Volunteer for Solar Decathlon 2015!
The U.S. Department of Energy Solar Decathlon is an award-winning program that challenges collegiate teams to design, build, and operate solar-powered houses that are cost-effective, energy-efficient, and attractive. Solar Decathlon 2015 will take place on October 8–18, 2015, at the Orange County Great Park in Irvine, California. DOE is seeking volunteers for this exciting event. At the Solar Decathlon, visitors can tour solar-powered houses, gather ideas to use in their own homes, and learn how energy-saving features can help them save money today.
Volunteers work alongside Solar Decathlon organizers, serving as greeters, docents, runners, Education Day mentors, visitor liaisons, and more. To learn more about volunteering, visit the Solar Decathlon website.
Please direct any questions about volunteering or internship opportunities at Solar Decathlon 2015 to volunteers@confluencec.com.
This Month's Residential Successes: Technology Solutions for Indoor Air Quality
This month's residential successes provide examples of Building America research projects that highlight indoor air quality systems.
Be a Citizen Scientist! Help Lawrence Berkeley Laboratory Study Indoor Air Quality
You still have time to participate in LBNL's Range Hood Roundup; the data call runs through September 2015. Scientists from LBNL have spent decades exploring how everyday activities affect indoor air quality. Their recent study, described in Addressing Kitchen Contaminants for Healthy, Low-Energy Homes, found that cooking without proper kitchen ventilation often produces air pollutant levels in homes that exceed outdoor air quality standards. You can help this effort by completing a short survey about your cooking patterns and kitchen ventilation. LBNL will use the information you provide to develop recommendations for improving indoor air quality and health through better building codes and product standards.
Building America in the News
Here are recent Building America-related articles in popular national and local trade publications.
New Publications from Building America
The Building America Publications Library offers an extensive collection of technical reports, measure guidelines, case studies, and other resources to help you boost energy efficiency in new and existing homes. On the library page, you can subscribe to the RSS feed that delivers reports as they are published. Also, the Building America Solution Center links you to expert building science and energy efficiency information based on Building America research results. Here are samples of our most recent publications:
Retrofitting a 1960s Split-Level, Cold-Climate Home
National programs such as Home Performance with ENERGY STAR® and numerous other utility air sealing programs have brought awareness to homeowners of the benefits of energy efficiency retrofits. Yet, these programs tend to focus on the low-hanging fruit: air-sealing the thermal envelope and ductwork where accessible, switch to efficient lighting, and low-flow fixtures. At the other end of the spectrum, deep-energy retrofit programs are also being encouraged by various utilities across the country. While deep energy retrofits typically seek 50% energy savings, they are often quite costly and most applicable to gut-rehab projects. A significant potential for lowering energy usage in existing homes lies between the low hanging fruit and deep energy retrofit approaches—retrofits that save approximately 30% in energy over the existing conditions. A key is to be non-intrusive with the efficiency measures so the retrofit projects can be accomplished in occupied homes. This cold climate retrofit project involved the design and optimization of a home in Connecticut that sought to improve energy savings by at least 30% (excluding solar PV) over the existing home's performance.
Sealed Crawl Spaces with Integrated Whole-House Ventilation in a Cold Climate
One method of code-compliance for crawlspaces is to seal and insulate the crawlspace rather than venting to the outdoors. However, codes require mechanical ventilation; either via conditioned supply air from the HVAC system, or a continuous exhaust ventilation strategy. As CARB team's building partner, Ithaca Neighborhood Housing Services, intended to use the unvented crawlspace in a recent development, CARB was interested in investigating a hybrid ventilation method that includes the exhaust air from the crawlspace as a portion of an ASHRAE 62.2 compliant whole-house ventilation strategy. This hybrid ventilation method was evaluated through a series of long-term monitoring tests that observed temperature, humidity, and pressure conditions through the home and crawlspace.
Technology Solutions Case Study: Innovative Retrofit Foundation Insulation Strategies, Minneapolis, Minnesota
In this project, the NorthernSTAR Building America Partnership evaluated a retrofit insulation strategy for foundations that is designed for use with open-core concrete block foundation walls. The three main goals were to improve moisture control, improve occupant comfort, and reduce heat loss.
Additional reports and case studies published recently are: