You are here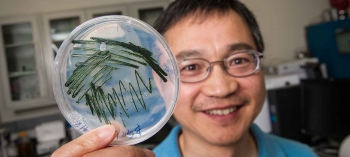 NREL researcher Dr. Jianping Yu holds a sample of cyanobacteria. Photo courtesy Dennis Schroeder/NREL.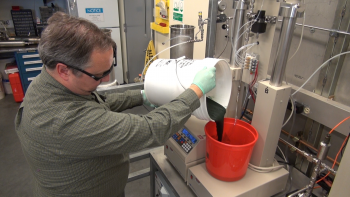 PNNL lab manager Todd Hart pours wet biomass into a bucket as he begins an experiment to convert the substance into biocrude oil. Photo Courtesy of PNNL.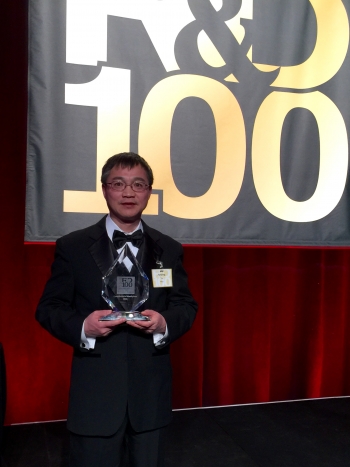 Dr. Jianping Yu, the lead researcher on the cyanobacterial bioethylene project, at the R&D 100 Award ceremony with the award. Photo courtesy NREL.
Two projects funded by the Energy Department's Bioenergy Technologies Office (BETO) have received awards at this year's 2015 R&D 100 Awards. The annual "Oscars of Invention" awards recognize excellence in innovative technologies; BETO projects have had strong showings as finalists and winners in the past, and this year was no exception.
Pacific Northwest National Laboratory, with Genifuel Corporation, received a prize in the processing/prototyping category for their hydrothermal process to convert wet biomass into biofuels. The innovative, breakthrough process can turn many different wet biomass feedstocks, including algae, into biocrude oil in less than 60 minutes at a high yield and with low energy costs. It has already won an industry accolade.
Taking home a prize in the mechanical/materials category, as well as a R&D Magazine's Editor's Choice award, was National Renewable Energy Laboratory for producing ethylene—a valuable chemical precursor to plastics—from genetically engineered cyanobacteria. The cyanobacteria are able to use carbon dioxide and photosynthesis in brackish water to produce ethylene, resulting in a process that reduces greenhouse gas emissions compared to conventional ethylene from petroleum resources.
These award winning projects are just a small sample of BETO's innovative research. BETO provides funding to national laboratories, universities, private companies, and other organizations across the bioenergy supply chain to support the development of biofuels and bioproducts. This work supports BETO's overall goals to develop, sustainable, cost-competitive biofuels and bioproducts that can reduce U.S. dependence on foreign oil, grow local economies, and reduce greenhouse gas emissions.