You are here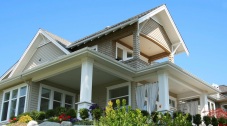 A recent National Association of Home Builders (NAHB)
study
aimed at uncovering how owners of energy-efficient homes felt after purchasing their homes found that not only would the majority recommend the same green homes to friends, but more than 50% believed the benefits of energy efficiency outweighed the cost.
"Historically, studies have focused on interest in green among buyers in the market or on trends as reported by industry professionals. While that's certainly important information for all those in the industry, it doesn't always get to the heart of what new buyers want to know, which is: 'How satisfied are green homeowners with their decision?'," said NAHB Energy and Green Building Subcommittee Co-Chair Matt Belcher.
Key findings of the study revealed:
94% would recommend a green home to a friend
92% would purchase another green home
90% were satisfied knowing they "did the right thing" in buying a green home
71% believed green homes are of higher quality
55% believed the benefits outweighed the cost
Homeowners also provided feedback on what influenced their decisions to purchase a green home, as well as the sustainable features they value most. According to respondents, low utility bills, energy efficiency, and better insulation topped the list of aspects with which homeowners were most satisfied. Read the full report or white paper to learn more.