You are here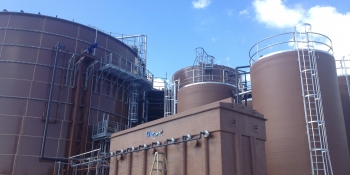 Anaerobic digesters reduce pollution and generate electricity in Milwaukee. | Image from Forest County Potawatomi Community
| | |
| --- | --- |
| EERE Investment | $2.6 million |
| Location | Forest County, Milwaukee, Wisconsin |
| Partners | Potawatomi Tribe |
Project Details
With Department of Energy funding and technical support, the Forest County Potawatomi Community (FCPC) has significantly reduced greenhouse gas emissions through the deployment of a biogas generation facility and solar photovoltaic system.
In 2011, the Community completed the installation of its solar photovoltaic system on its Administration Building in Milwaukee, Wisconsin.  The installation produces approximately 35,000 kilowatt-hours of electricity per year and reduces carbon dioxide emissions by approximately 41 tons. The project also supported the local economy, as Milwaukee-based Pieper Electric installed the system's solar panels that were manufactured by Milwaukee-based Helios USA, LLC.
In addition, through FCPC Renewable Generation, LLC, a wholly-owned subsidiary, the Community developed a 2-megawatt anaerobic digestion and biogas generation facility. The electricity is sold to the local utility and used to power approximately 1,600 homes. Excess heat is recovered and beneficially reused.
The anaerobic digesters associated with the facility utilize a diverse source of organic feedstocks, including liquid food processing byproducts from dairy, beverage, food, and meat processing operations in the region. This replaces the common practices of landfilling and land spreading for disposing of such liquid waste, which can contribute to pollutant run-off into streams and lakes. By capturing the methane and creating a clean and sustainable biogas, the facility mitigates approximately 20,000 metric tons of greenhouse gas emissions annually.
More Information