You are here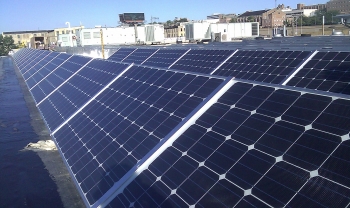 The Forest County Potawatomi Tribe finishes installing solar panels on a Milwaukee, Wisconsin, administration building. | Photo courtesy of the Forest County Potawatomi Tribe
When the Forest County Potawatomi Tribe announced it had finished installing solar panels on a Milwaukee, Wisconsin, administration building last week, it became the first of five U.S. communities that received Community Renewable Energy Deployment funding from the American Recovery and Reinvestment Act to complete its utility-scale community energy project.
Using all American-made products and panels manufactured at a Milwaukee-based company, the city is now generating 35,000 more kilowatt hours of clean electricity.  
"The Potawatomi are excited to reach another milestone towards our long-standing goal of reducing our energy use and carbon footprint," said Forest County Potawatomi Attorney General Jeff Crawford. "We are fortunate that there are companies and organizations right here in Wisconsin that helped make this project happen."
The installation of the solar panels represents another step in the Potawatomi's ongoing efforts to reduce its energy use and carbon footprint. Over the past several years, the Potawatomi have implemented a number of energy efficiency initiatives to significantly lower its energy usage and reduce carbon emissions. Since 2007, the tribe has reduced its energy usage per gross square foot by nearly 12 percent and reduced its corresponding carbon emissions by almost 20 percent.
 
These efficiencies have avoided more than 13,700 tons of annual carbon pollution, the equivalent of the emissions from almost 9,000 passenger vehicles.
 
The Potawatomi also purchases nearly 55 million kilowatt hours of renewable energy credits annually from certified wind-energy facilities in the United States. That is enough green energy to offset 100 percent of the electricity usage at all its facilities.
 
The other four ongoing Community Renewable Energy Deployment-funded projects are in Montpelier, Vermony, Haxtun, Colorado, Sacramento, California, and at the University of California at Davis in Davis, California. Along with funding assistance, the Energy Department's Energy Efficiency and Renewable Energy Office is also helping to develop concepts, best practices, planning, financial approaches and policy guidance.
"With the help of Recovery Act funding, clean energy projects across the county are creating skilled jobs, reducing our reliance on fossil fuels and saving consumers money on their energy bills," said Ted Donat, a supervisor in the Energy Efficiency and Conservation Block Grants Program. "Community-based renewable energy projects help tribal nations, such as the Forest County Potawatomi, meet their energy needs, support economic development and improve the environment."