You are here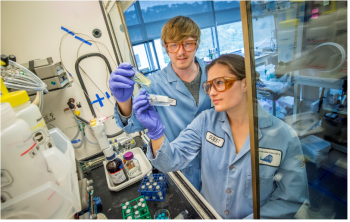 Entrepreneurial researcher Raymond Weitekamp and team member Corinne Allen utilize the resources at Lawrence Berkeley National Laboratory's Molecular Foundry to analyze sustainable advanced materials. Weitekamp was selected to be part of Cyclotron Road, the founding program of the Lab-Embedded Entrepreneurship Programs.
Developing the game-changing technologies needed to transition the world to a clean energy future isn't easy. Bringing advanced manufacturing and energy technologies to market requires strong capital investment, access to scientific tools and facilities, and lengthy development timescales. Within this challenging innovation environment, we risk a lost generation of energy and manufacturing entrepreneurs dedicated to changing how we generate and use energy. EERE created the Lab-Embedded Entrepreneurship Programs to provide an institutional home for innovative postdoctoral researchers to build their research into products and train to be entrepreneurs. The Lab-Embedded Entrepreneurship Programs are funded by EERE's Advanced Manufacturing Office.
Developing the Next Generation of Energy and Manufacturing Entrepreneurs
The Lab-Embedded Entrepreneurship Programs take top entrepreneurial scientists and engineers and embed them within U.S. national laboratories to perform early-stage research and development (R&D) that may lead to the launch of energy or manufacturing businesses in the future.  
In addition to technological access and support, the program trains innovators to develop entrepreneurial acumen and skills, while introducing them to the ecosystem partners needed to facilitate commercial and investment opportunities.
This dual focus on early-stage R&D and entrepreneurial development provides innovators with the platform they need to take their ideas from the lab and onto the commercialization pathway.
DOE and America's Innovation Ecosystems
DOE national labs play an important role in developing the innovation ecosystems in their respective regions. Each hosted by a lead laboratory, the individual programs are designed to leverage the unique strengths within their respective regional innovation ecosystems. Currently, there are three programs:
Cyclotron Road at Lawrence Berkeley National Laboratory, Berkeley, California
Chain Reaction Innovations at Argonne National Laboratory, Argonne, Illinois
Innovation Crossroads at Oak Ridge National Laboratory, Oak Ridge, Tennessee.
Harnessing the ingenuity of America's entrepreneurial researchers is critical to address key scientific knowledge gaps limiting the energy efficiency and productivity of U.S. manufacturers and American global competitiveness. The Lab-Embedded Entrepreneurship Programs provide a home for top energy and manufacturing technology innovators where they can develop their technologies and have a sustained impact on our energy future.