"Every day is a new opportunity and more importantly every single day I have a chance to make a difference for at least one person," said Renée Breyer, Lawrence Livermore National Laboratory's Associate Director for Strategic Human Resources Management.
"Everyone should be taught that they too can have an accomplished STEM career," said Char Sample, Cybersecurity Researcher at Idaho National Laboratory.
"What we do over the next 30 years may determine the future of the planet," said Kate Anderson, Senior Engineer at the National Renewable Energy Laboratory.
"Educating women, girls, and underrepresented groups early on about what a future in STEM could include will reduce the misconception that all careers in STEM require lab coats," said Megan Yachini, Project Management staffer at the National Energy Technology Laboratory.
Don't miss Renée, Char, Kate, and Megan's new poster images in our STEM Rising: Women @ Energy poster series, released today.
The STEM Rising: Women @ Energy Series
These powerful quotes are pulled from our Women @ Energy profile series, a project of STEM Rising that features over 100 women in STEM at the Energy Department who share their STEM career journey, what they love about their work, inspiration for pursuing STEM, advice they have for others, and what they do in their free time.
View the first set of posters here, and the second set here. You can see the full set of STEM Rising: Women @ Energy profiles here.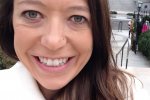 AnneMarie Horowitz
AnneMarie Horowitz has been with the Energy Department since 2010 and is a Public Affairs Specialist on the digital strategy team in the Office of Public Affairs.
more by this author