Need some inspiration? Check out our new Women @ Energy poster series and share them with a friend, family member, or student today.
The four posters feature quotes and images of women who work in science, tech, engineering, and math (STEM) fields at our U.S. Department of Energy National Laboratories.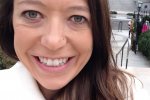 AnneMarie Horowitz
AnneMarie Horowitz has been with the Energy Department since 2010 and is a Public Affairs Specialist on the digital strategy team in the Office of Public Affairs.
more by this author