"I cannot afford to not know what's happening in my backyard for the future generations of this community." 
That's what AlexAnna Salmon, a renewable energy advocate and Igiugig Tribal Council President, told an Alaskan radio station in 2017 when she joined an advisory committee on a controversial mining project. Today, this mantra holds true for Salmon as she continues at the forefront of energy decisions at her home in Igiugig, an Alaskan Native community that sits at the mouth of the Kvichak River on Lake Iliamna, where water, fishing, and the land are at the heart of the Tribe. 
Tribal communities like Salmon's are critical to the clean energy revolution, building on their deep respect and connection to the environment. They are also a focus of the investments in the  President's Bipartisan Infrastructure Law, which allocates $62 billion for clean energy projects at the Department of Energy. This includes: 
Providing more than $13 billion in direct investment in Tribal communities. 
Making Tribal communities eligible for billions more in much-needed investments. 
Setting a pathway to a workforce that looks like America, hiring over 1,000 new positions in the Clean Energy Corps at the Department of Energy.  
Salmon does a little bit of everything—she's a mom to six kids and President of the Igiugig Village Council. Just last year, she completed her world development degree from the University of Alaska Fairbanks. In her role on the Village Council, Salmon spearheads conversations on transitioning to renewable energy and cultural revitalization for her Tribe and neighbors. 
 See Igiugig for yourself in this video narrated by Salmon and produced by the Harvard Kennedy School.  
People have been in Igiugig for over 8,000 years, according to Salmon, but life is changing. Climate change is creating unpredictable winters, as their former way to bring caribou over frozen lakes and roads is altered with higher temperatures and waterlogged ground. The size of the salmon in the area is shrinking. Trapping is no longer a job, it's a pastime. Protecting the water is critical to the Igiugig people, as they get drinking water straight from the river. 
"We really value our environment and the relationship with our landscape, and the interconnectedness of working together to achieve what we would like to move our community forward," she said. "We have really forward-thinking residents that want to reduce our carbon footprint and are aware of our changing climate." 
For instance, Salmon worked with DOE in 2019 on the Igiugig Hydrokinetic Project through the Office of Energy Efficiency and Renewable Energy, a submerged 35-kW power system that utilizes the current of the river as a renewable energy source. Local community members are trained to deploy and retrieve the device for inspections and maintenance, keeping the work local and effective for long-term use. These days, Salmon is working on creating the first non-fossil fuel-powered community cultural center in Bristol Bay, keeping the tribe's indigenous value system at the forefront of the planning.  
"When Ocean Renewable Power Company came to Igiugig, they came to meet with the community and said, this your river. How can we make this technology work, using your labor, your equipment, and for you to give us feedback on the engineering of our own device?" said Salmon. "It was a very, very unique approach compared to the other companies who came out to test and didn't involve the community. So the very fact that they used Alaskan companies, that they asked us for recommendations, and that they subcontracted to our own companies and our own people to do the work helped in the larger picture of the buy-in."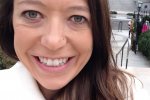 AnneMarie Horowitz
AnneMarie Horowitz has been with the Energy Department since 2010 and is a Public Affairs Specialist on the digital strategy team in the Office of Public Affairs.
more by this author