You don't need to leave your house to get to know science, technology, engineering, and mathematics (STEM) professionals across the country. With our brand new STEM Rising: Faces of STEM series, we will bring you quick videos to learn about all things STEM and what our National Laboratories and offices are doing to innovate & change the world.
Subscribe to our YouTube playlist here to get alerts when we start adding new videos. You'll be hearing from people like Nicole Ellison, Lead Facility Structural Engineer at the National Renewable Laboratory about why she loves her job making sure buildings are safe and secure, and Rachel Slaybaugh, a program director at ARPA-E, about agricultural technology and energy, nuclear energy, and her work as a professor.
Others who have signed up to share videos include Roland Varriale, a cyber security analyst at Argonne National Laboratory who studies how people might try to disrupt systems like digital car charging or our work laptops, and Caroline Winters, a fire sciences researcher at our Sandia National Laboratories who studies how surfaces deform and heat when set on fire or exposed to incredibly high temperatures.
(Are you a Department of Energy STEM profesisonal? Sign up to give a talk here.)
Make sure to spread the word about this new series to parents and teachers of middle school and high schoolers who are looking for educational and entertaining STEM content, pop some popcorn, and head over to our YouTube page to get started.
See other STEM resources on our STEM Rising page at www.energy.gov/STEM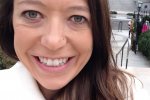 AnneMarie Horowitz
AnneMarie Horowitz has been with the Energy Department since 2010 and is a Public Affairs Specialist on the digital strategy team in the Office of Public Affairs.
more by this author