Join scientists from three U.S. Department of Energy National Laboratories who made possible the Perseverance Rover's mission to Mars at this link https://bit.ly/36bToHW, Tuesday, Feb. 16, 1 p.m. – 2:30 p.m. MST/ 3 p.m. – 4:30pm EST.
NASA will attempt to land Perseverance on Mars Feb. 18, and we'll give you the behind-the-scenes scoop on the work it took to fuel the Rover from our STEM professionals at Oak Ridge National Laboratory, Idaho National Laboratory, and Los Alamos National Laboratory — as well as insight into Perseverance's scientific mission from team members who developed SuperCam, a rock-vaporizing laser that will help determine whether life ever existed on the planet.
This panel discussion is geared toward high school and college students, to show the exciting technology and space discovery STEM careers enable. It is also open to all who would like to attend. We will highlight the role of the DOE in space exploration, and link students with options to explore their STEM future with the DOE like internships and STEM events.
Learn about how the scientists prepared for the mission, what STEM skills they needed, the technological basics required to make it possible and get questions answered by our impressive STEM professionals during the conversation.
Find more STEM resources and programs at STEM Rising, the DOE's effort to share all-things-STEM at www.energy.gov/STEM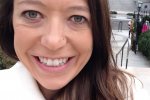 AnneMarie Horowitz
AnneMarie Horowitz has been with the Energy Department since 2010 and is a Public Affairs Specialist on the digital strategy team in the Office of Public Affairs.
more by this author