During Black History Month, Energy.gov is highlighting important contributions of scientists and engineers who worked on the Manhattan Project, the top-secret World War II-era program that ushered in the nuclear age.
Dr. William Jacob Knox Jr. (1904 - 1995) broke barriers his entire life. A grandson of a slave from North Carolina, he earned a Ph.D. in organic chemistry from Massachusetts Institute of Technology and became the Manhattan Project's only black supervisor. Knox's nuclear research team at Columbia University isolated a uranium isotope that was essential for sustaining chain reactions. His experience with corrosive materials during the Manhattan Project helped him earn a position with camera equipment manufacturer Eastman Kodak in Rochester, New York, where he became just the second black Ph.D. chemist in the company's history. Here are more facts about Dr. William Knox:
1. He was one of three brothers who earned doctorates.
Knox wasn't the only brilliant mind in his family. His other two brothers, Everett and Lawrence, both graduated with doctoral degrees. Lawrence also earned a Ph.D. in chemistry and worked on the Manhattan Project. According to Chemical Heritage Magazine, the Knox family accounted for nearly 7% of all black Ph.D. chemists in the United States over a 25-year period.
2. He lead a chemistry department before leading a Manhattan Project research team.
After earning his Ph.D. at MIT, Knox taught science at North Carolina Agricultural and Technical College and eventually headed the chemistry department at Talladega College in Alabama. 
3. He was awarded 21 patents at Kodak.
During his 25 years at Kodak, Knox specialized in surfactants, compounds that lower surface tension. His work improved manufacturing, raising the quality of photographic film. He was highly respected among his peers, who referred to him as "the man to consult about coating problems." Throughout his prolific career, he was granted 21 patents and authored three journal articles.
4. Despite his success, he faced racism and discrimination.
Like many, Knox was forced to endure racial discrimination his entire life. He struggled to find a good house near his daughter's school, and real estate agents only offered an abandoned brothel as a potential home. Later, a sympathetic coworker bought a house under his name and sold it to Knox as a way to avoid discriminatory housing policies. These daily experiences motivated Knox to take action to help others.
5. 
He fought for housing equality and civil rights.
Knox was an important civil rights figure in Rochester. He co-founded the Rochester Urban League, served on the Housing Advisory Council, and was active in the local chapter of the National Association for the Advancement of Colored People, helping communities who faced discrimination and injustice. His was also passionate about education, setting up scholarships for disadvantaged students.
More on the Manhattan Project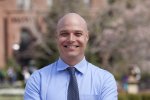 Paul Lester
Paul Lester is a Digital Content Specialist in the Office of Public Affairs. Paul was born in Ohio but spent most of his life in Florida, where he worked as news researcher/archivist and online editor for the Orlando Sentinel.
more by this author